APT Free Seminar - Pressure Injury Pathophysiology & Powered Mobility Technologies and Innovations
Aidacare Adelaide, 71 Port Road, Thebarton SA 5031
Aims to review the current best evidence of pressure injury pathophysiology.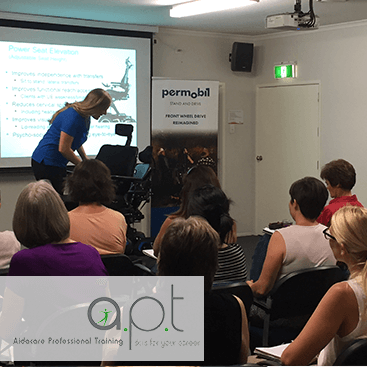 Arrival: 9.30am
All Day Session: 10.00am to 3.00pm
PRESSURE INJURY PATHOPHYSIOLOGY & POWERED MOBILITY TECHNOLOGIES AND INNOVATIONS
Morning:
This session will review the current best evidence of pressure injury pathophysiology, with a focus on the new understanding of the significant role tissue deformation plays in the development of pressure injuries. Discussions will revolve around the differences in the development of a superficial pressure injuries versus a suspected deep tissue injury. In addition, the intrinsic and extrinsic risk factors commonly associated with pressure injuries will also be reviewed along with strategies to minimise the risks. The principles of pressure management in wheelchair cushions will be highlighted, including how the various materials (air cell, gel, foam) may impact client outcomes
Afternoon: Powered Mobility Technologies and Innovations
Power seating is often prescribed to manage the risk of pressure injuries as well as improve a client's independence. Through a clinical applications approach, this course will review various client examples and applications of seating/mobility technology. Included in each example will be a review of clinical needs and the rationale for various seating and mobility solutions as they relate to funding and best practice. Utilising parameters for best practice and the ICF model, participants will also learn how to better determine the most appropriate power wheelchair and seating system for client success and function while mitigating complications. This presentation will also discuss emerging technology and how clinically connecting the wheelchair with emerging technology and applications provides new opportunities to facilitate client health, function, compliance, and to provide data to strengthen justifications and fuel research. Participants will get a chance to preview Permobil's Virtual Seating Coach (VSC) prior to release. Time will be allotted for audience participation, discussion, and equipment demonstration throughout the sessions.
Presenter: Magdalena Love
OTR, ATP, Permobil
Magdalena received her Masters of Occupational Therapy from University of Florida. Following a speciality affiliation as a research assistant at the National Institute of Health (NIH), she worked as an OT in the New York School system and at an outpatient paediatric clinic. In 2011, she went on to hold an OT position at The Institute for Rehabilitation and Research (TIRR) in Houston, TX on both the Brain Injury then the Spinal Cord Injury/Specialty Rehab team.
Magdalena was actively involved in seating and mobility clinics during her career at TIRR. She currently works for Permobil as Clinical Education Specialist, is an Assistive Technology Professional (ATP), and an active member of AOTA and RESNA. In 2016, Magdalena relocated to Sydney to assume the role of Clinical Education Specialist for Permobil in the Australia & New Zealand regions.
Lunch is provided. Please email training@aidacare.com.au if you have any dietary requirements.