APT Free Seminar - Power to the People: Power Mobility - So Many Options and Considerations
Aidacare Thebarton, 71 Port Rd, Thebarton SA 5031
Join us for a Quickie Masterclass in powered mobility.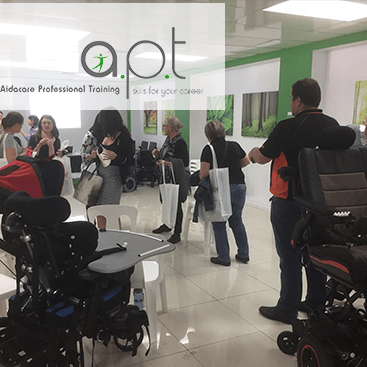 Arrival: 9.00am
All Day Session: 9.30am to 3.00pm
POWER TO THE PEOPLE: POWER MOBILITY - SO MANY OPTIONS AND CONSIDERATIONS
Join us for a Quickie Masterclass in powered mobility. We'll consider the various options: from simple through to complex wheelchairs including chairs with multiple power seating systems. We'll also explore power add – on and power assist options; which clients will benefit and the considerations required.
Be Ready - this course is jam-packed with hands-on learning opportunities. We'll feel and experience the different systems; how they navigate real world terrain. Programming and drive control choices will also be discussed.
Presenter: Amy Bjornson, MS, MPT, ATP, Clinical Educator
Sunrise Medical
Trained as a Physical Therapist in the United States, Amy has over 20 years' experience working with the adult and paediatric neurologic populations, with specialities in the treatment of spinal cord injury, and evaluation and provision of assistive technology for clients with physical challenges. She was the director of the Seating and Mobility Clinic in Boston, MA USA and provided consultation services to the United Cerebral Palsy Foundation.
Based in Sydney, Amy currently develops and implements national and international training programs on using Assistive Technology to enhance inclusion, health and well-being in those with physical disabilities. She also serves a product improvement and development role for Sunrise Medical, Australia
Amy focuses on providing sound solutions that create positive results, even in challenging environments. She consistently implements innovative ideas focused on improving the lives of people with disabilities. She recently spearheaded foundation of Australia's chapter of GoBabyGo, a charitable organisation dedicated to early mobility for very young children.
Amy is a dynamic speaker who has lectured extensively on seating and mobility, wound management and the physical therapy treatment of spinal cord injured clients. She has also travelled to several developing countries, learning and sharing information with their medical communities.
Amy received her ATP certification in 1995, SMS certification in 2015 and is a friend of NRRTS and a member of RESNA. She is an active member of Wheelchairs for Humanity and Health Volunteers Overseas.
Lunch is provided. Please email training@aidacare.com.au if you have any dietary requirements.