APT Free Seminar - The Functional Benefits of Standing
Mulgrave Country Club, Cnr Wellington Road & Jells Road, Wheelers Hill VIC 3150
Aims to present the functional benefits of some of the less commonly prescribed seat functions.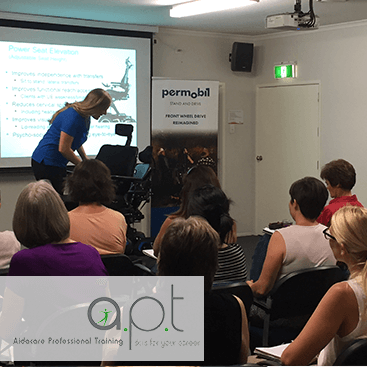 Arrival: 9.30am
All Day Session: 10.00am to 3.00pm
THE FUNCTIONAL BENEFITS OF STANDING
What are the functional benefits of standing?
Why bother with anterior tilt?
Does my client even have a functional need for a seat lift or recline?
This course aims to present the functional benefits of some of the less commonly prescribed seat functions. With the advent of new funding sources – it is critical for therapists to be able to determine what features are unnecessary versus those that have the potential to increase independence and improve a client's quality of life.
A review of the evidence for power seat functions will be provided, along with case studies that highlight functional benefits achieved through each feature. Methods to justify additional components to funding sources will be reviewed. Additionally, this course will discuss emerging technology that has to potential to improve client outcomes – and how this technology can be used to facilitate therapeutic goals.
Presenter: Magdalena Love
OTR, ATP, Permobil
Magdalena received her Masters of Occupational Therapy from University of Florida. Following a speciality affiliation as a research assistant at the National Institute of Health (NIH), she worked as an OT in the New York School system and at an outpatient paediatric clinic. In 2011, she went on to hold an OT position at The Institute for Rehabilitation and Research (TIRR) in Houston, TX on both the Brain Injury then the Spinal Cord Injury/Specialty Rehab team.
Magdalena was actively involved in seating and mobility clinics during her career at TIRR. She currently works for Permobil as Clinical Education Specialist, is an Assistive Technology Professional (ATP), and an active member of AOTA and RESNA. In 2016, Magdalena relocated to Sydney to assume the role of Clinical Education Specialist for Permobil in the Australia & New Zealand regions.
Lunch is provided. Please email training@aidacare.com.au if you have any dietary requirements.