APT: Bringing Power Into The Future - Melbourne
Bell City Mantra, 215 Bell Street, Preston VIC 3072
We'll challenge new suspension technology, investigate new power seating options and determine how this technology affects client comfort and function. We'll also experience head arrays and alternate drive control options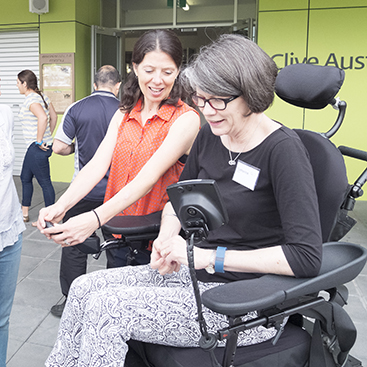 Learn about the emerging power wheelchair technology
Come ready to try out power wheelchairs over real world terrain.
This workshop will provide the opportunity to learn and feel, by experience, the innovative technology being used in today's power wheelchairs.
We'll challenge new suspension technology, investigate new power seating options and determine how this technology affects client comfort and function. We'll also experience head arrays and alternate drive control options. Strategies for selecting a device and training a client to use these devices will also be provided.
If you have an interest in Power Wheelchair technology and want to learn by experience, this is the workshop for you!
About the trainer:
Amy Bjornson, BS, MPT, ATP Clinical Education Manage Austral-Asia - Sunrise Medical
Trained as a Physical Therapist in the United States, Amy has over 17 years experience as a physical therapist working with the adult and paediatric neurologic populations, with specialties in the treatment of spinal cord injury, and evaluation and provision of assistive technology for clients with physical challenges. She was the director of the Seating and Mobility Clinic in Boston, MA USA and provided consultation services to the United Cerebral Palsy Foundation.
Published works include contributions to "Health Officers Guide to Treatment of Spinal Cord Injured" and "Treatment of Traumatic Brain Injury"
Amy came to Sunrise Medical – North America in 2000 as an Account Representative and joined the Education Department in 2002. She joined Sunrise-Australia in July 2007 as a Clinical Education Specialist to provide and enhance professional education, training and consultation regarding wheelchair seating and functional mobility throughout Austral-Asia.
Amy is a dynamic speaker who has lectured extensively on seating and mobility, wound management and the physical therapy treatment of spinal cord injured clients. She has also traveled to several developing countries, learning and sharing information with their medical communities. She recently returned from a wheelchair distribution trip in Mongolia.
Amy received her ATP certification in 1995 and is a friend of NRRTS and a member of RESNA. She is an active member of Wheelchairs for Humanity and Health Volunteers Overseas.