APT: Aidacare Professional Training with Permobil, Sydney
Royal Rehab, 235 Morrison Rd, Ryde NSW 2112
This session is split into three parts: Fitting the wheelchair like a prosthetic, Overview of Tissue Deformation and Power seat functions – examining the myths.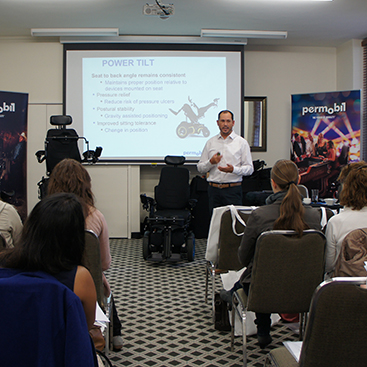 Duration: 9:00 AM to 3:30 PM (AEST)
TiLite: Fitting the wheelchair like a prosthetic
Understand the link between the preservation of upper limb function, the specific recommendations in the Clinical Practice Guidelines, and properly fitting a wheelchair.
Accurately describe the process and key aspects of setting front and rear seat height, frame depth, and seat width for an individual wheelchair user.
Identify specific examples, and their consequences, of poor vs. proper fitting in key dimensions of height, depth, and width.
ROHO: Overview of Tissue Deformation
DTI – Deep Tissue Injury
What is the latest research telling us?
Introduction to Smart Check
Permobil: Power seat functions – examining the myths
Power seating is often prescribed to manage the risk of pressure ulcers, a potentially serious complication for individuals who use wheelchairs. There is much evidence suggesting the use of power seat functions will reduce the risk of pressure ulcers; however, clinicians sometimes have negative perceptions about the use of certain seat functions. Additionally, there is interesting research about the usage patterns of the various power seat functions that may impact the prescription of these features. The purpose of this session is to examine the research that is available and dispels the myths surrounding power seating. Also, through anatomical perspectives, the use of case studies and current research, attendees will better understand the importance of a holistic assessment for proper prescription of seat functions for functioning as well as management of pressure in the seated individual. Time will also be allotted for audience participation and discussion.
Includes an update on the latest research in regards to standing product
Exclusive Australian preview of 'Virtual Seating Coach'

Presenter - Brandon Edmondson - Permobil (USA)
Brandon Edmondson, OTR, ATP, CRTS: Brandon is a licensed occupational therapist, graduated from University of Texas Medical Branch in 1999. He has been a certified ATP since 2001, and NRRTS member. Brandon has worked in the provision of complex rehab equipment for 15 years servicing adults and children with a wide array of neurological diagnoses and mobility needs. He has presented to therapists and nurse case managers for 12 years on the importance of matching their patients mobility needs with the most functional solutions. He has also conducted a yearly 'Wheelchair 101' guest lecture for the Houston area OT/PT schools, UTMB and TWU. He has worked closely with a model spinal cord centre as well as an ALS/MDA clinic and has the first-hand experience of the rehab model. Brandon was a partner in a complex rehab provider company in Texas and has since worked for Permobil as an Area Sales Manager for the southeast region while also presenting continuing education courses related to power and manual mobility. In 2015, he was appointed to Director of Clinical Sales and Outcomes for Permobil.