Product Comparison
{{variant.Name}}
{{variant.Code}}
{{variant.SalePrice}}
{{variant.ListPrice}}
{{variant.UOM}}
{{comparisonProductsError}}
You can add up to four products to the compare list. To view full detail, please click COMPARE.
JAY - Lite
Previous
Next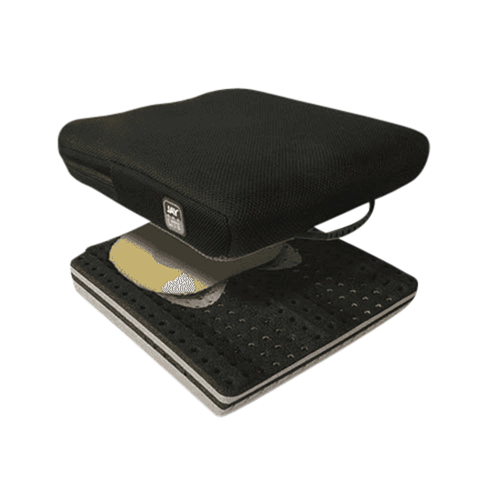 An ideal off-the-shelf complement to ultra lightweight wheelchairs
Constructed with lightweight 3DX Microclimatic spacer fabric and Airflow base to provide excellent microclimatic heat and moisture dissipation
The OptiWell pelvic loading area helps to achieve high levels of pressure distribution and stability in an extremely lightweight cushion
Available with positioning inserts for those with postural needs (please ask our Aidacare C.A.S.E consultants for help selecting these)
Available in sizes 14x14" to 24x24"
All models include: Incontinence resistance cover
Warranty Information
1 Year Cushion
6 Months cover
Contract, Trade and Volume Prices may be available. To find out if they are available for this product, please contact us here.
Specifications

| Code | Display Name | Total Height | Safe Working Load | Pressure Care Rating | Material |
| --- | --- | --- | --- | --- | --- |
| PTC571902 | JAY Lite - 14 x 14in | 2.25 in | 113 kg | Medium Risk | Spacer Fabric |
| PTC571904 | JAY Lite Positioning - 14 x 14in | 2.25 in | 113 kg | Medium Risk | Spacer Fabric |
| PTC571901 | JAY Lite - 14 x 16in | 2.25 in | 113 kg | Medium Risk | Spacer Fabric |
| PTC571905 | JAY Lite Positioning - 14 x 16in | 2.25 in | 113 kg | Medium Risk | Spacer Fabric |
| PTC571906 | JAY Lite - 15 x 15in | 2.25 in | 113 kg | Medium Risk | Spacer Fabric |
| PTC571907 | JAY Lite Positioning - 15 x 15in | 2.25 in | 113 kg | Medium Risk | Spacer Fabric |
| PTC571970 | JAY Lite - 15 x 16in | 2.25 in | 113 kg | Medium Risk | Spacer Fabric |
| PTC571909 | JAY Lite Positioning - 15 x 16in | 2.25 in | 113 kg | Medium Risk | Spacer Fabric |
| PTC571908 | JAY Lite Positioning - 16 x 15in | 2.25 in | 113 kg | Medium Risk | Spacer Fabric |
| PTC571911 | JAY Lite - 16 x 16in | 2.25 in | 113 kg | Medium Risk | Spacer Fabric |
| PTC571910 | JAY Lite Positioning - 16 x 16in | 2.25 in | 113 kg | Medium Risk | Spacer Fabric |
| PTC585140 | JAY Lite - 16 x 17in | 2.25 in | 113 kg | Medium Risk | Spacer Fabric |
| PTC571913 | JAY Lite - 16 x 18in | 2.25 in | 113 kg | Medium Risk | Spacer Fabric |
| PTC571912 | JAY Lite Positioning - 16 x 18in | 2.25 in | 113 kg | Medium Risk | Spacer Fabric |
| PTC585149 | JAY Lite - 17 x 17in | 2.25 in | 113 kg | Medium Risk | Spacer Fabric |
| PTC585150 | JAY Lite Positioning - 17 x 17in | 2.25 in | 113 kg | Medium Risk | Spacer Fabric |
| PTC585151 | JAY Lite Positioning - 17 x 18in | 2.25 in | 113 kg | Medium Risk | Spacer Fabric |
| PTC585152 | JAY Lite Positioning - 18 x 16in | 2.25 in | 113 kg | Medium Risk | Spacer Fabric |
| PTC585153 | JAY Lite - 18 x 17in | 2.25 in | 113 kg | Medium Risk | Spacer Fabric |
| PTC585154 | JAY Lite Positioning - 18 x 17in | 2.25 in | 113 kg | Medium Risk | Spacer Fabric |
| PTC585155 | JAY Lite - 18 x 18in | 2.25 in | 113 kg | Medium Risk | Spacer Fabric |
| PTC585160 | JAY Lite Positioning - 18 x 20in | 2.25 in | 113 kg | Medium Risk | Spacer Fabric |
| PTC585165 | JAY Lite - 19 x 17in | 2.25 in | 113 kg | Medium Risk | Spacer Fabric |
| PTC571925 | JAY Lite - 20 x 18in | 2.25 in | 113 kg | Medium Risk | Spacer Fabric |
| PTC571930 | JAY Lite Positioning - 20 x 20in | 2.25 in | 113 kg | Medium Risk | Spacer Fabric |
| PTC571950 | JAY Lite - 22 x 18in | 2.25 in | 113 kg | Medium Risk | Spacer Fabric |
| PTC571903 | JAY Lite Positioning - 15 x 17in | 2.25 in | 113 kg | Medium Risk | Spacer Fabric |
| PTC571972 | JAY Lite - 15 x 18in | 2.25 in | 113 kg | Medium Risk | Spacer Fabric |
| PTC571914 | JAY Lite Positioning - 16 x 17in | 2.25 in | 113 kg | Medium Risk | Spacer Fabric |
| PTC585148 | JAY Lite Positioning - 17 x 16in | 2.25 in | 113 kg | Medium Risk | Spacer Fabric |
| PTC585156 | JAY Lite - 17 x 18in | 2.25 in | 113 kg | Medium Risk | Spacer Fabric |
| PTC585157 | JAY Lite - 18 x 16in | 2.25 in | 113 kg | Medium Risk | Spacer Fabric |
| PTC585170 | JAY Lite - 19 x 20in | 2.25 in | 113 kg | Medium Risk | Spacer Fabric |