Product Comparison
{{variant.Name}}
{{variant.Code}}
{{variant.SalePrice}}
{{variant.ListPrice}}
{{variant.UOM}}
{{comparisonProductsError}}
You can add up to four products to the compare list. To view full detail, please click COMPARE.
ROHO - Hybrid Elite
Previous
Next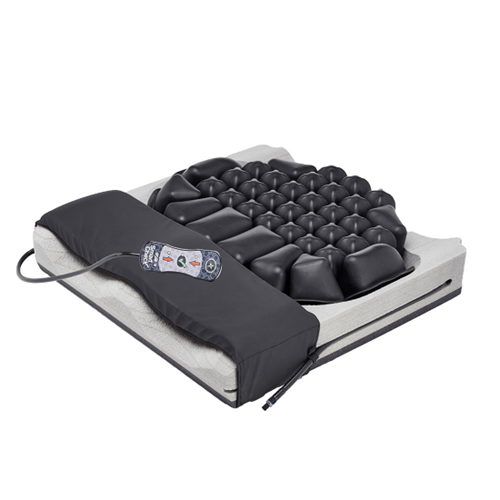 Two trusted brands, one effective solution. The Hybrid Elite combines the skin protection and shape matching ability of ROHO Dry Floatation with a contoured foam base designed for ROHO by JAY
The design allows for improving pelvic alignment and stability while maintaining optimal immersion and dispersion of pressure away from the pelvic area
The stability provided by the JAY foam base also assists with achieving safer transfers
The ROHO Dry Floatation system and 2-way stretch cover help reduce friction shear whilst maximising blood flow
Appropriate for clients with moderate to high risk of skin breakdown who require positioning support
Maximum User Weight: 225 kg
All models include: 2 way stretch cover, Hand pump & Repair kit, Operating instructions
Contract, Trade and Volume Prices may be available. To find out if they are available for this product, please contact us here.
Specifications

| Code | Display Name | Total Height | Safe Working Load | Pressure Care Rating | Material |
| --- | --- | --- | --- | --- | --- |
| PTC594845 | ROHO Hybrid Elite - 1 Valve - 14 x 14in | 4.25 in | 225 kg | High Risk | Air Cells |
| PTC594850 | ROHO Hybrid Elite - 1 Valve - 14 x 15in | 4.25 in | 225 kg | High Risk | Air Cells |
| PTC594860 | ROHO Hybrid Elite - 1 Valve - 14 x 16in | 4.25 in | 225 kg | High Risk | Air Cells |
| PTC594899 | ROHO Hybrid Elite - 1 Valve - 15 x 15in | 4.25 in | 225 kg | High Risk | Air Cells |
| PTC594900 | ROHO Hybrid Elite - 1 Valve - 15 x 16in | 4.25 in | 225 kg | High Risk | Air Cells |
| PTC594901 | ROHO Hybrid Elite - 1 Valve - 15 x 17in | 4.25 in | 225 kg | High Risk | Air Cells |
| PTC594909 | ROHO Hybrid Elite - 1 Valve - 16 x 15in | 4.25 in | 225 kg | High Risk | Air Cells |
| PTC594910 | ROHO Hybrid Elite - 1 Valve - 16 x 16in | 4.25 in | 225 kg | High Risk | Air Cells |
| PTC594911 | ROHO Hybrid Elite - 1 Valve - 16 x 17in | 4.25 in | 225 kg | High Risk | Air Cells |
| PTC594920 | ROHO Hybrid Elite - 1 Valve - 16 x 18in | 4.25 in | 225 kg | High Risk | Air Cells |
| PTC594921 | ROHO Hybrid Elite - 1 Valve - 16 x 20in | 4.25 in | 225 kg | High Risk | Air Cells |
| PTC594929 | ROHO Hybrid Elite - 1 Valve - 17 x 16in | 4.25 in | 225 kg | High Risk | Air Cells |
| PTC594930 | ROHO Hybrid Elite - 1 Valve - 17 x 17in | 4.25 in | 225 kg | High Risk | Air Cells |
| PTC594931 | ROHO Hybrid Elite - 1 Valve - 17 x 18in | 4.25 in | 225 kg | High Risk | Air Cells |
| PTC594935 | ROHO Hybrid Elite - 1 Valve - 18 x 16in | 4.25 in | 225 kg | High Risk | Air Cells |
| PTC594939 | ROHO Hybrid Elite - 1 Valve - 18 x 17in | 4.25 in | 225 kg | High Risk | Air Cells |
| PTC594940 | ROHO Hybrid Elite - 1 Valve - 18 x 18in | 4.25 in | 225 kg | High Risk | Air Cells |
| PTC594945 | ROHO Hybrid Elite - 1 Valve - 18 x 20in | 4.25 in | 225 kg | High Risk | Air Cells |
| PTC594950 | ROHO Hybrid Elite - 1 Valve - 20 x 18in | 4.25 in | 225 kg | High Risk | Air Cells |
| PTC594951 | ROHO Hybrid Elite - 1 Valve - 20 x 20in | 4.25 in | 225 kg | High Risk | Air Cells |
| PTC594946 | ROHO Hybrid Elite - 1 Valve - 22 x 18in | 4.25 in | 225 kg | High Risk | Air Cells |
| PTC594947 | ROHO Hybrid Elite - 1 Valve - 22 x 20in | 4.25 in | 225 kg | High Risk | Air Cells |
| PTC594948 | ROHO Hybrid Elite - 1 Valve - 24 x 18in | 4.25 in | 225 kg | High Risk | Air Cells |
| PTC594949 | ROHO Hybrid Elite - 1 Valve - 24 x 20in | 4.25 in | 225 kg | High Risk | Air Cells |
| PTC594962 | ROHO Hybrid Elite - 2 Valves - 14 x 14in | 4.25 in | 225 kg | High Risk | Air Cells |
| PTC594964 | ROHO Hybrid Elite - 2 Valves - 14 x 15in | 4.25 in | 225 kg | High Risk | Air Cells |
| PTC594965 | ROHO Hybrid Elite - 2 Valves - 14 x 16in | 4.25 in | 225 kg | High Risk | Air Cells |
| PTC594956 | ROHO Hybrid Elite - 2 Valves - 15 x 15in | 4.25 in | 225 kg | High Risk | Air Cells |
| PTC594966 | ROHO Hybrid Elite - 2 Valves - 15 x 16in | 4.25 in | 225 kg | High Risk | Air Cells |
| PTC594967 | ROHO Hybrid Elite - 2 Valves - 15 x 17in | 4.25 in | 225 kg | High Risk | Air Cells |
| PTC594968 | ROHO Hybrid Elite - 2 Valves - 16 x 15in | 4.25 in | 225 kg | High Risk | Air Cells |
| PTC594952 | ROHO Hybrid Elite - 2 Valves - 16 x 16in | 4.25 in | 225 kg | High Risk | Air Cells |
| PTC594969 | ROHO Hybrid Elite - 2 Valves - 16 x 17in | 4.25 in | 225 kg | High Risk | Air Cells |
| PTC594953 | ROHO Hybrid Elite - 2 Valves - 16 x 18in | 4.25 in | 225 kg | High Risk | Air Cells |
| PTC594963 | ROHO Hybrid Elite - 2 Valves - 16 x 20in | 4.25 in | 225 kg | High Risk | Air Cells |
| PTC594957 | ROHO Hybrid Elite - 2 Valves - 17 x 16in | 4.25 in | 225 kg | High Risk | Air Cells |
| PTC594970 | ROHO Hybrid Elite - 2 Valves - 17 x 17in | 4.25 in | 225 kg | High Risk | Air Cells |
| PTC594971 | ROHO Hybrid Elite - 2 Valves - 17 x 18in | 4.25 in | 225 kg | High Risk | Air Cells |
| PTC594958 | ROHO Hybrid Elite - 2 Valves - 18 x 16in | 4.25 in | 225 kg | High Risk | Air Cells |
| PTC594959 | ROHO Hybrid Elite - 2 Valves - 18 x 17in | 4.25 in | 225 kg | High Risk | Air Cells |
| PTC594954 | ROHO Hybrid Elite - 2 Valves - 18 x 18in | 4.25 in | 225 kg | High Risk | Air Cells |
| PTC594972 | ROHO Hybrid Elite - 2 Valves - 18 x 20in | 4.25 in | 225 kg | High Risk | Air Cells |
| PTC594955 | ROHO Hybrid Elite - 2 Valves - 20 x 18in | 4.25 in | 225 kg | High Risk | Air Cells |
| PTC594961 | ROHO Hybrid Elite - 2 Valves - 20 x 20in | 4.25 in | 225 kg | High Risk | Air Cells |
| PTC594973 | ROHO Hybrid Elite - 2 Valves - 22 x 18in | 4.25 in | 225 kg | High Risk | Air Cells |
| PTC594974 | ROHO Hybrid Elite - 2 Valves - 22 x 20in | 4.25 in | 225 kg | High Risk | Air Cells |
| PTC594975 | ROHO Hybrid Elite - 2 Valves - 24 x 18in | 4.25 in | 225 kg | High Risk | Air Cells |
| PTC594976 | ROHO Hybrid Elite - 2 Valves - 24 x 20in | 4.25 in | 225 kg | High Risk | Air Cells |