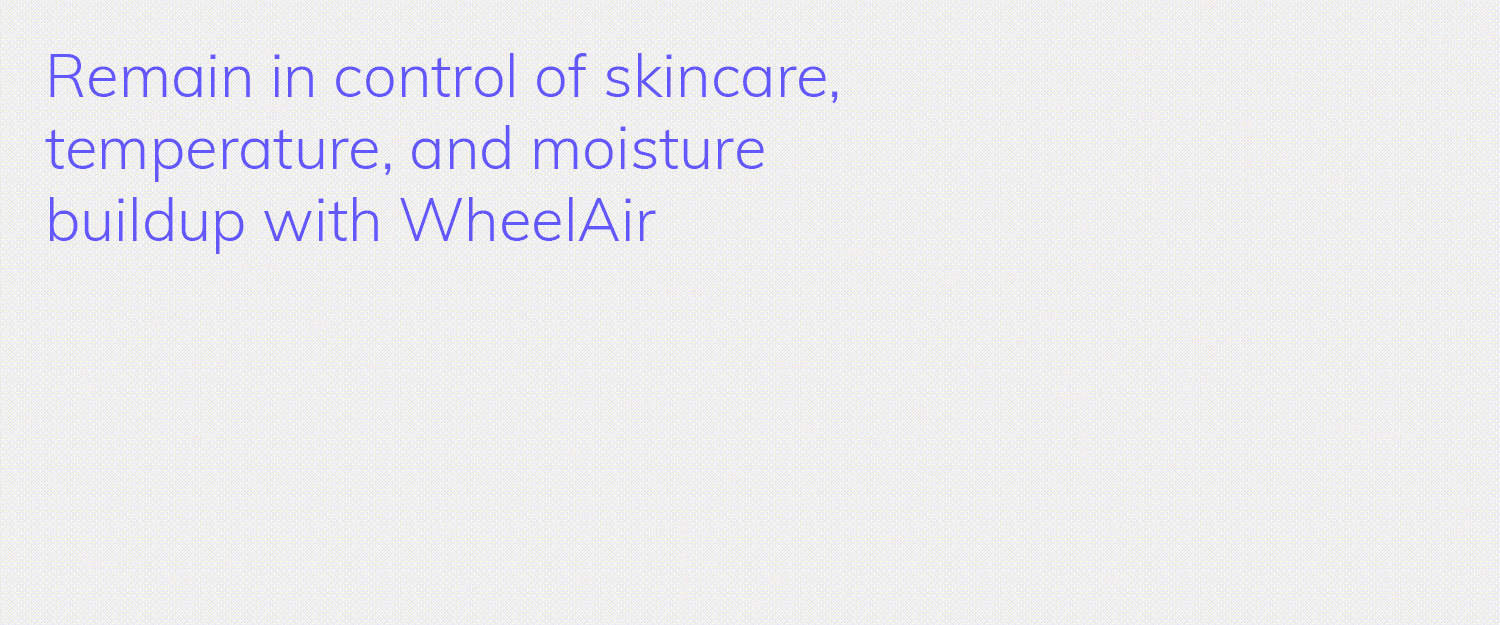 The WheelAir system is the first temperature and moisture control system designed to fit any wheelchair.

It disperses air evenly across the seat surface to lower temperature, remove moisture build-up, and keep skin dry and clean.Through active airflow, WheelAir allows for self regulation of the body temperature through convection, conduction and evaporation heat loss.
Microclimate

Research demonstrates the necessity to keep your skin dry and clean, the WheelAir Slingback reduces the temperature of the back 9˚C and lowers relative humidity by 25%.

Oversweating

Help your sweat evaporate with WheelAir. WheelAir gently blows the air from around you onto your skin, lowering the relative humidity and keep your skin and clothing dry.

Overheating

Take control of your body temperature. Heat and moisture is wicked away from your body, while we reduce your skin and body temperature, leaving you cool and refreshed.
WheelAir Cooling System
The WheelAir system is designed to remove excess heat and moisture from the backs of wheelchair users and cool their core temperature. Custom moulded seating systems are known to create lots of unwanted heat and moisture due to their posture correcting qualities.
With WheelAir's cooling system, improve temperature regulation and microclimate control without compromising on posture or comfort.
Aidacare work closely with WheelAir to allow the system to be carefully fitted and built into your scripted wheelchair.
Please get in touch if you would like to see if your current or newly scripted wheelchair can be fitted with the cooling backrest.

WheelAir Cooling Slingback Backrest
The WheelAir Cooling Slingback Backrest is part of the WheelAir Go range, a ready to use line of WheelAir products designed to provide powerful, but discrete, temperature and humidity control for wheelchair users struggling with heat, sweat, or skincare management.
The backrest is available in 12 sizes to fit all active lightweight rigid and folding wheelchairs with a canvas backrest. This allows you to add temperature control to your existing wheelchair, is easy to fit and doesn't require complex installation, you can start enjoying the benefits the day it arrives.
During testing, the WheelAir Slingback kept back contact area up to 9.2ºC cooler when the fanbox is on, compared to when it is off.

WheelAir Cooling Cushion Cover
The WheelAir cooling cushion cover system is a ready to go cover that fits over your current cushion which provides the microclimate, humidity and temperature control benefits of the WheelAir system while keeping the pressure relieving and shear force qualities and comfort of your existing seat cushion.
The WheelAir Cushion Cover instantly promotes even airflow distribution throughout the cushion, lowering relative humidity and significantly decreasing the speed at which the temperature rises.
Testing shows that for the single-density foam cushion, mixed-density foam cushion, the air and moisture permeable compartmented air cell based cushion and lattice 'honeycomb' structure cushion, relative humidity reduced steadily while fitted with the WheelAir Cushion Cover and increased steadily while using the own-brand cover.

Aidacare Complex Rehab

Aidacare Complex Rehab consultants and engineers provide specialised advice, service and equipment based solutions for our clients. This highly specialised are a of Complex Rehab is supported by our expert team of consultants with many years of practical experience and professional training including qualified Physiotherapists, Occupational Therapists, Rehab Engineers and Field Technicians on the team.

The WheelAir system can be integrated into most aftermarket backrests on both complex or manual chairs. Our complex rehab specialist can demonstrate the benefits of the WheelAir and discuss how the system can be integrated into your selected backrest. There are a number of different connectors and shapes required depending on your wheelchair setup. Our sales specialist will be able to show you an example of how the system can be installed, and allow you to feel the difference of active cooling using a pre-made example of the product, please get in touch via the contact us button below.
| | |
| --- | --- |
| Aidacare has been a registered provider since its trial rollout in 2013 - working with clients, families and NDIS case managers to achieve fantastic outcomes for all. WheelAir can be NDIS Approved, contact us to discuss more. | |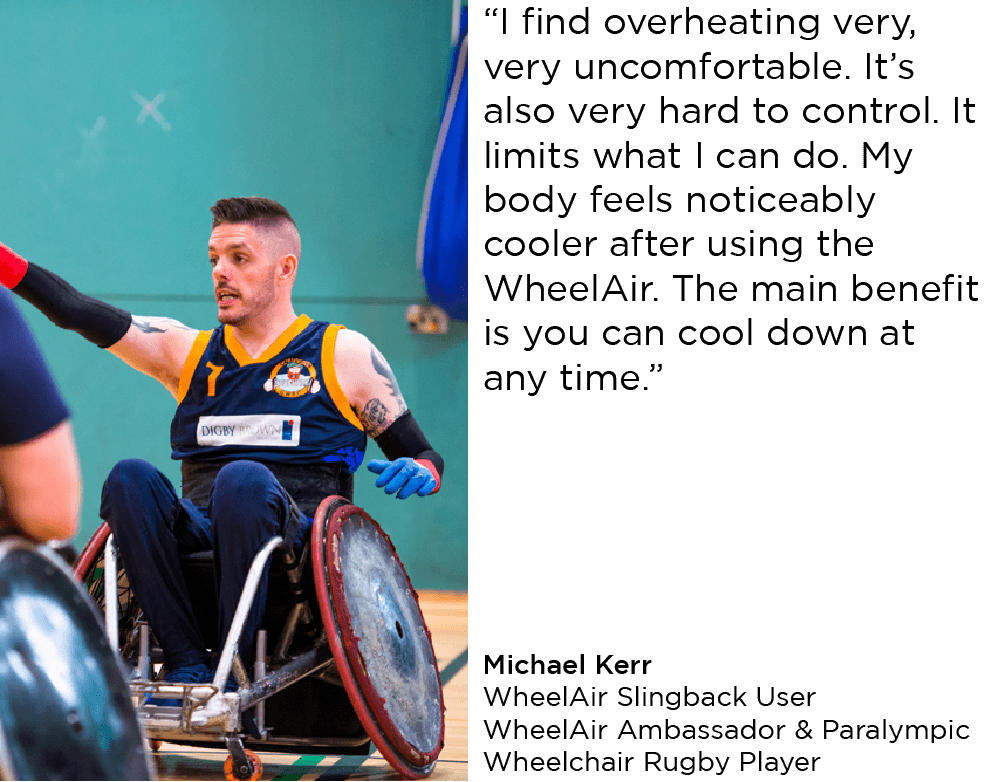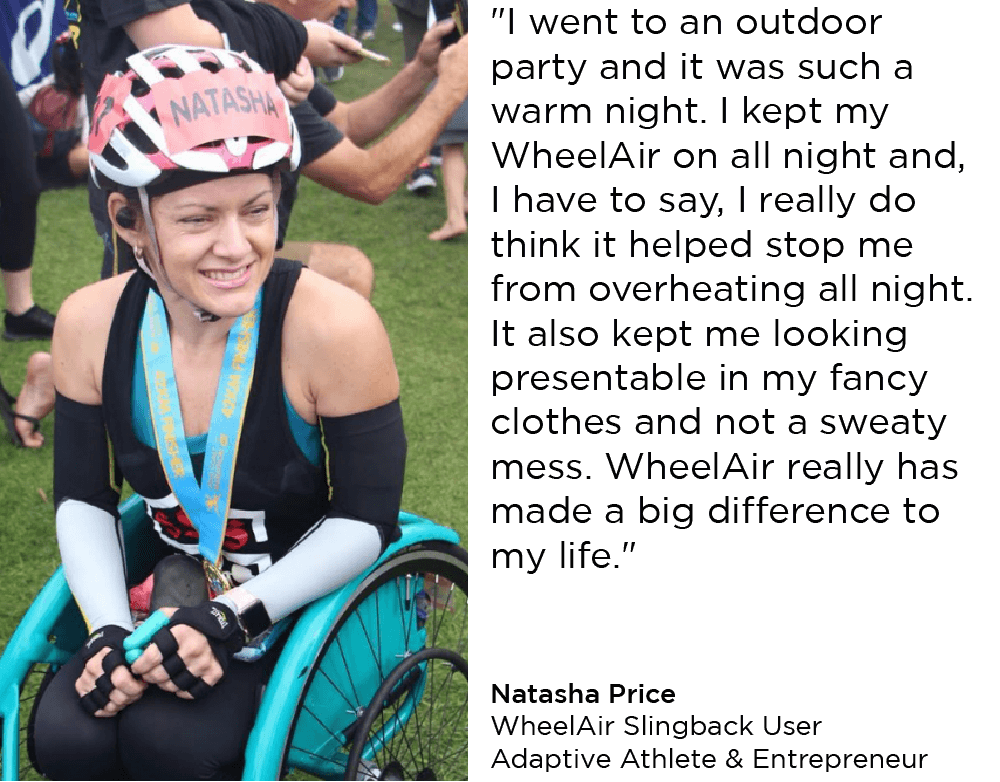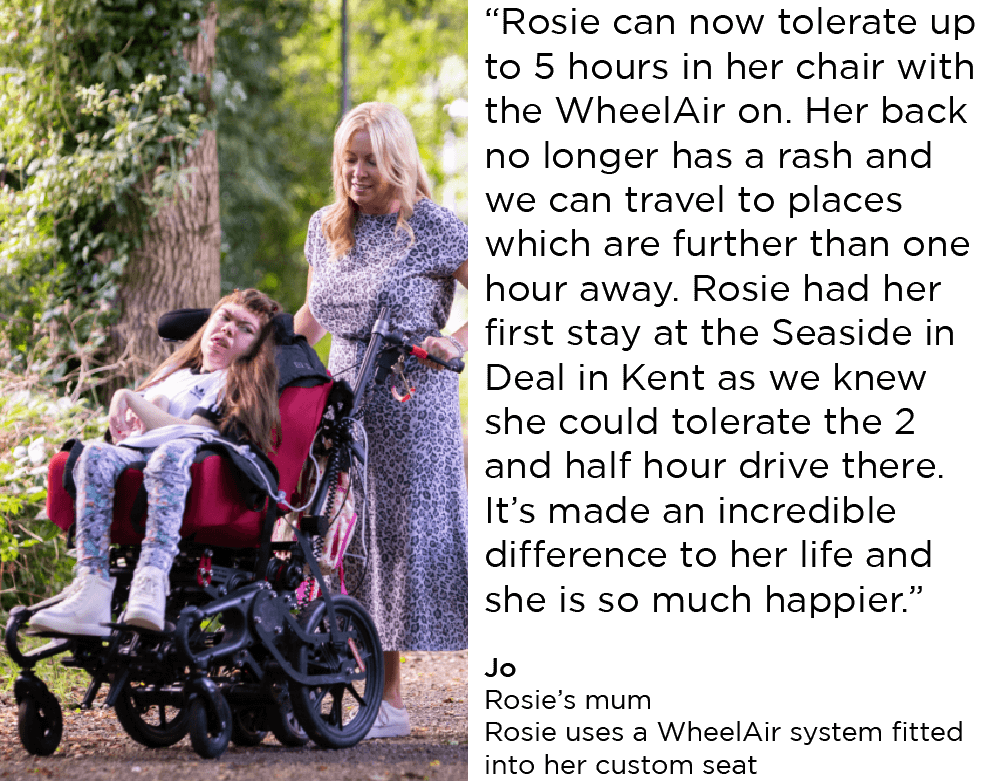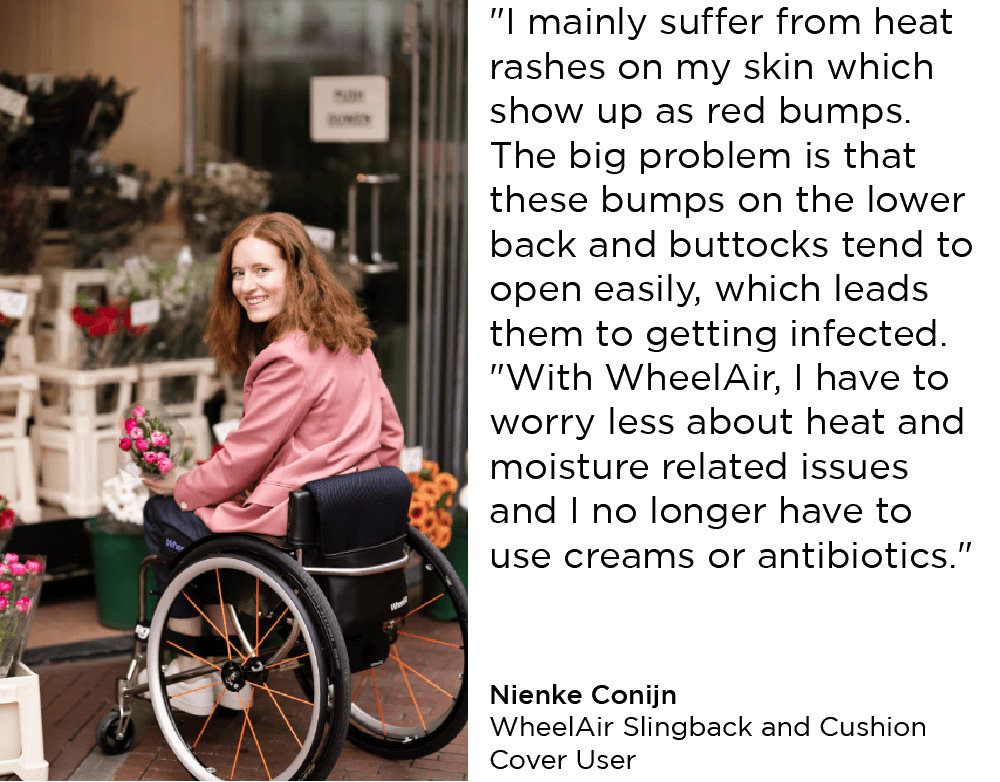 Rosie's WheelAir Story

Rosie is a 16-year-old from England. Her mother shared Rosie's story, from struggling with temperature regulation and skin care management due to overheating and sweat build-up, to being able to take trips to the seaside and manage her temperature with the help of a WheelAir integration in her custom seating.

WheelAir Thermal Imaging Test

A live comparison of how WheelAir reduces the heat generated from wheelchair users. WheelAir is the first temperature and moisture control system designed to fit any wheelchair. It disperses air evenly across the seat surface to lower temperature, remove moisture build-up and keep skin dry and clean.