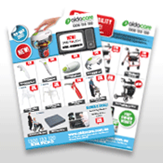 Fantastic Retail Savings!
We have a fantastic range of retail promotions for Feb - March featuring great savings on some of our most popular lines including our Aspire Vogue Walkers, Aspire Shower Chairs, Aspire Meal Tray Walker and Aspire Lite Transit. Hurry, offers valid whilst stock lasts!
VIEW OFFERS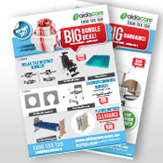 SAVE on Bundle Deals!
There are some great savings to be had in our Feb - March Enterprise promotions! The Aspire Relax Tilt In Space bundle with bonus Equagel Pressure Care Cushion has been hugely popular among Community Therapists and Aged Care Providers.
VIEW OFFERS
Pocket Catalogue
Our 2016 Pocket Catalogue is now available. A fantastic quick reference guide to some of most popular products in a handy 50 page A5 booklet.
Order yours

Who is Aidacare?
Aidacare is a leading provider of healthcare equipment and assistive technology for Hospitals, Residential Aged-Care Facilities, Home & Community Care and Rehabilitation.
Our Home & Community Equipment Specialists work closely with Occupational Therapists, Physiotherapists and other Allied Health Practitioners to bring assistive equipment expertise and guidance into the home environment of our clients. Aidacare & Our Distribution Partners' Retail Showrooms also enable health practitioners and their clients with easy access to our range of assistive equipment.
Our focus on product quality and ongoing support and services have made Aidacare and Aspire trusted brands in many supply contracts and support arrangements with Aged Care Facility groups and Hospital groups in Australia.
Aidacare has a strong team of Complex Rehab consultants, Rehab engineers and technicians working closely with Allied Health professionals in Hospital brain & spinal injury units and in other disability centres to bring to reality assistive equipment solutions that help improve the quality of life.
Aidacare supports its activities in the supply of healthcare equipment with a significant team of skilled field service technicians and engineers to cover preventative maintenance and service support equipment.