Hospital & Acute Care
Aidacare is one of Australia's largest Healthcare Equipment and Service providers. A proudly Australian family owned business employing over 1000 staff nationally. Since 1987, for 30 years, our business has been assisting Australians in the Hospital; Aged-Care; Home & Community Care; and Rehabilitation sectors.

Aidacare is committed to implementing the latest technology available in the design and manufacture of all products internationally and domestically. Aidacare's NEW Hospital & Acute Care products have been carefully selected for their clinical efficacy, longevity, quality, ease of use and value for money.

All Aidacare products are designed and manufactured with the focus on ensuring the Safety and Care of the Patients and the Caregiver. Aidacare only uses quality parts and strict internationally accredited manufacturing processes.
Spotlight Product
NUBOMED MEDICAL CARTS X-SERIES
Lightweight, agile, and flexible mobile nursing care with modular design, on-demand modification for clinic.
NuboMed intelligent mobile workstation adheres to the clean, simple, and smart design concepts. Lightweight fuselage integrated with embedded computer, wireless communication modules, intelligent batteries, power supply, and loT technology. Tailor made specifically for clinical ward rounds, nursing, monitoring, bedside treatment, medicine dispensary and billing functionality. Returns medical staff back to their basics. Combines technology with medical treatment while providing optimal patient care.
X5000 MEDICATION DISPENSING CART
Universal intelligent storage units across multiple platforms, UDD single dose units for fast loading and unloading, intelligent lock, user/drug recognition, ensuring closed-loop medication management.
Hidden and expandable work surface for maximum usage space and a variety of accessories and drawer combinations
Previous
Next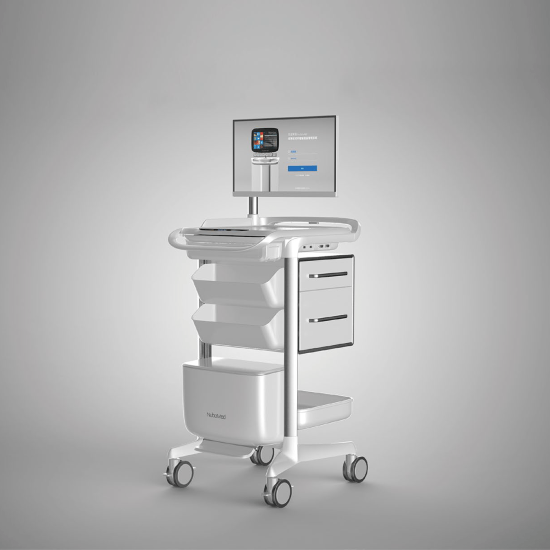 Aidacare Discharge Management Systems
Hospital discharge planners require quick and effective systems for booking discharge equipment, supported by the capability to promptly deliver and install equipment in a patient's home. Ward managers also require an efficient means to rent equipment for short-term needs such as pressure care mattresses for high pressure-ulcer risk patients. Aidacare's Hospital Discharge Management systems provide streamlined: Discharge Rental; Ward Rental; and, Assisted Private Rental options. Importantly, these systems are configurable to assist the Hospital Operator to account for costs within cost centres and to control spend with Hierarchical User-Approval Levels. If you're interested in how some of Australia's Major Hospital Providers have leveraged these systems to streamline their equipment management then ask us how we can help.