Liko - MANUAL HANDLING

About Liko
Since 1979, Liko has been a world-leading patient lift manufacturer. Liko specialise in developing solutions for simple and safe lifting and transferring of disabled persons. Specialisation and experience have given Liko a lead in knowledge, technique and methods. Liko use that every day to create fantastic solutions for the users of their products.
Liko's head office is located in the village of Alvik in the north of Sweden, the same place where it all started more than 30 years ago.
Popular Liko Product Categories
Liko in the Hospital Environment
Aidacare has extensive experience working with moving and handling patients in hospitals. On most hospital wards, the need for transfers is great, for example, to and from CT Scan, operation tables, bed, toilet or for rehabilitation.
Research shows that the need to transfer patients also leads the hospital staff to experience the heavy working environment. Injuries related to patient transfers are very common.
Aidacare can offer training in risk assessment and transfer techniques specially adapted to staff in hospitals.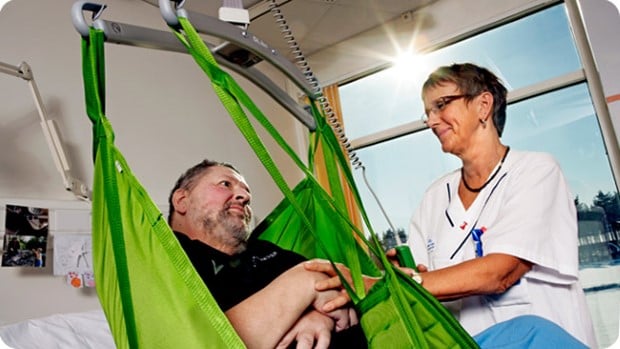 Our Services
Our professionally trained sales consultants will be happy to help you with an overall assessment of the lifting needs in your organisation. Together we can analyse your daily work situation and the lifting aids that are available. The result will be a recommendation for improved work routines and possibly revised equipment.
Aidacare can arranges Safe Lifting education and training for caregivers. During the course, staff learns the basics in safe transfers, risk assessment and available aids.
Common Hospital Environment Lifting Needs
The lifting needs in hospitals are great and varying. In addition to common transfers between bed and wheelchair or to the toilet, it can also be a question of repositioning in the bed, lifting of patients' arms and legs, horizontal lifting or stand/gait training for rehabilitation.
Popular Liko product solutions in the hospital environment include Liko Floor Lifters , Ceiling Hoist Solutions, Patient Movers and Patient Slings.
Bariatric Manual Handling
Liko in the Aged Care Environment
Those living at group and care homes all have one thing in common: for different reasons they can't or won't live at home. However, their needs for everyday help and transferring can vary considerably.
Just within the group of patients in a care home, we see persons with different degrees of functionality and mobility. For those who need help to manage transfers, it is a question of finding the best aid to enable the individual patient to be as active as possible, which simultaneously is functional and safe for the staff.

Group homes can be homes for people with both psychic and physic disabilities; some are completely independent in their transfers, whereas multi-handicapped patients, for instance, can have a very big and specific need for help. For these patients, who cannot themselves participate in the transfers, the choice of sling fabric and fit is extremely important in order to handle the task in the best possible way.
Services
Competent Support Staff
Contact your Aidacare representative if you need help in fitting a sling or if you want us to help you with a survey of your lifting needs. All of our sales representatives are highly experienced consultants who have special experience in moving and handling patients.
Safe Lifting Training & Education
Aidacare can arrange Safe Lifting education sessions for caregivers. During these sessions, staff learns the basics in safe transfers, risk assessment and available aids. Contact your Aidacare representative for more information.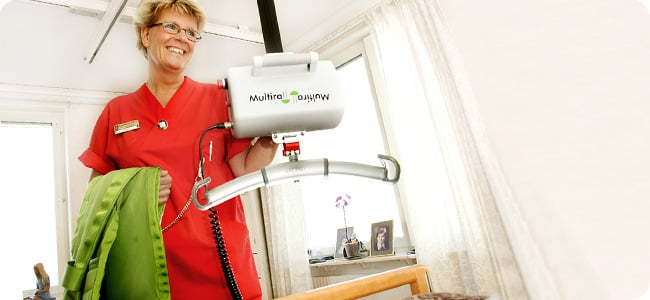 Common Aged Care Environment Lifting Sceanarios
Within these segments we see that the most common lifts and transfers can be topical, for example:
To and from bed/wheelchair
Toilet visits
Shower and bath
Transfers in bed
Raising
Standing/Gait Training
Popular Liko product solutions in the Aged Care Environment include Ceiling Hoist Solutions, Mobile Lifters / Hoists, Resident Transfer Aids and Resident Slings
Liko in the Home Environment
Taking care of one's close relatives is one of our most common care situations. It is often a question of people with reduced mobility who cannot move to and from the bed by themselves or perhaps need some extra help when in the toilet.
Many of our solutions have been developed precisely for these situations, and our products are easy to handle even for untrained patients.
Our Services
Personal support
Contact your Aidacare representative if you need help on projecting overhead lifts, suggestions on a suitable sling or if you want us to help you with a survey of your lifting needs. All of our sales representatives are highly experienced sales consultants who have special experience in moving and handling patients.
Lifts and Raising Supports
Overhead lifts are often the optimal solution for a long-term lifting need in the home. By using an overhead system, floor space is increased as this would normally be occupied by a mobile hoist. A traverse system (the most common overhead lift solution) enables an entire room to be covered. Smooth transfers between rooms, for example into the toilet, become possible with a room-to-room lift such as Likorall 200 or Multirall 200. Another advantage with Multirall is the possibility to quickly and easily move between different rail systems and, for instance, can be tranferred to another facility.


If the lifting need is temporary, a free-standing solution such as FreeSpan can be an alternative. A free-standing overhead lift system has no structural requirements on the walls or the ceiling and can therefore be installed in the most environments.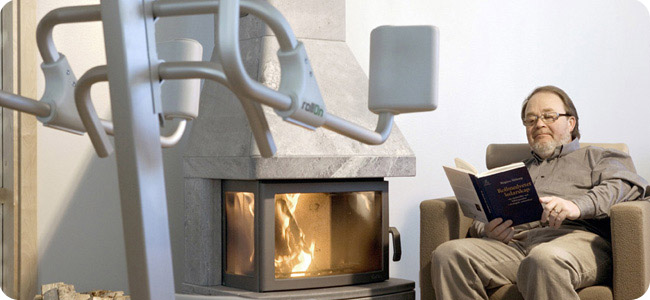 For patients who can participate actively in raising, the raising lift Sabina could be a suitable choice. The Sabina acts as a support during the raising and can later be used in transfers to/from the bed or into the toilet.


Among our mobile lifts is the Viking range. The Viking M is a common choice for those looking for a versatile lift that can handle many different lifting situations in the most common environments. The Viking L is a popular everyday flexible lifting solution with a safe working load of 250kg. To cater for the demand of bariatric care in our healthcare system we have the Viking XL with a safe working loading load of 300kg.
Lifting Accessories
Liko are proud about the fact that we have the world's widest range of slings and other lifting accessories. This range gives a possibility to manange not only every day situations, but also the more complex requirements.
Liko's most popular models for sitting lifts include Liko UniversalSling and Liko OriginalSling. For lifting to the toilet, Liko HygieneSling and Liko HygieneVest are popular solutions. Special slings are also available for amputees.


Choosing the right sling bar is vital for an optimal lifting solution. For instance a wide sling bar or multipoint suspension bar can be more comfortable for pain and pressure sensitive patients.