TAC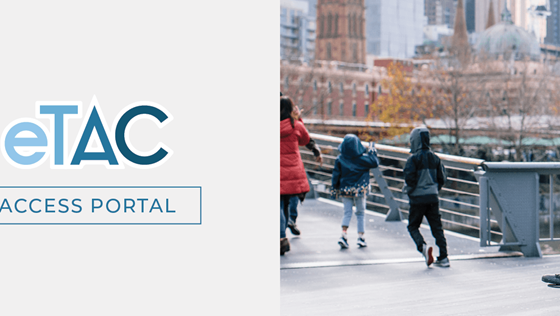 The Transport Accident Commission (TAC) provide support to people injured in transport accidents. Aidacare are contracted to TAC for the supply of a broad range of Rehabilitation, Mobility and Complex Assistive Technology Equipment.

Aidacare have developed an exciting new Ordering Portal in partnership with the TAC. Our new eTAC Portal allows you to place your orders quickly and easily whilst eTAC's convenient dashboard functionality allows you to manage all your orders and clients and view the status of each order.

Click here to be taken to our new eTAC Portal.

Aidacare have been a reliable and trusted partner to the TAC for nearly 20 years. We provide a Victorian state-wide coverage for the delivery of equipment and provision of services, in addition to offering a National wide provision of services.

Our friendly, dedicated and experienced TAC customer service team are available to you on 1300 240 067.
Aidacare provides Urgent After-Hours Emergency Breakdown Repairs to TAC & VWA Clients.

Our after hours team can be contacted on 1300 133 128 or AHServiceVIC@aidacare.com.au
Popular TAC product categories
FAQ's
Am I eligible?

A. If you are a TAC Client and have a TAC Claim number and your Date of Accident then you are eligible for equipment and services under the TAC scheme. If you have any queries about your eligibility please call TAC on 1300 654 329 (local call) or 1800 332 556 (toll-free outside the Melbourne metropolitan area) 8:30am to 5:30pm, Monday to Friday.

How to place an order for equipment?

A. Who can Order: Clients and Prescribing Therapists can place orders.
How to Order:
Call (During business hours): 1300 240 067
Fax: (03) 9386 9170
Email: tac@aidacare.com.au
Web Order: Click here to filter and display TAC contracted products.
Add products to cart and submit your quote request making sure to select TAC as the funding type.

Client details required when ordering:
• Type of Assistance Required: Equipment Purchase, Equipment Hire, Service, Collection, Transport, Home Modifications or Preventative Maintenance
• Client Name
• Claim Number
• Contact Phone Number
• Date of Birth
• Date of Accident
• Delivery Address
• Details of Prescribing Clinician
• The Equipment Item Number (refer to the Aidacare website or your catalogue)

Can I get my aid or appliance delivered?

A. Yes, aids and appliances will be delivered to your home and the freight charges will be covered by the TAC.

How do I arrange a Home Modification?

A. Modifications are based on an in-home assessment by a therapist and can range from something as simple as installing grab-rails, hand-rails, lever taps and step-wedges to more complex home modifications such as installing fixed wheelchair ramps and widening doorways.

How to Order: Requests can be placed by Clients/Claimants and Prescribing Therapists Fax or Email.
Email to: tac@aidacare.com.au
Fax to: (03) 9386 9170

What to send with your request: Home Modification diagram

Once your order is placed: When we receive the request via one of the methods above our Customer Service Team will coordinate the job with our Home Modification Provider who will contact the Client to arrange a time to do the Home Modification work.

Click here to read more about our home modification services

How do I make a booking for a Service or Repair?

A. Our mobile-repair technicians can come to you to repair your equipment. Our qualified staff are industry trained, test and tag certified and Police checked.

You can log a request to have someone contact you to arrange an appointment for your equipment to be repaired by simply clicking here. Alternatively call 1300 240 067 during regular business hours and speak with our friendly team about having equipment repaired by one of our qualified service technicians.

Click here to read more about our repairs services

Can I have my equipment serviced annually?

A. Certain equipment will automatically be scheduled for annual maintenance. You will be contacted by Aidacare's maintenance department to book a time to conduct this maintenance. The following items are covered by automatic maintenance:
• Electric hospital bed
• Electric standing hoist
• Electric ceiling hoist
• Electric scooter
• Motorised wheelchair
• Customised Manual wheelchair
• Tilt in space manual wheelchair
• Mobile Shower transporter/commode
• Alternating air pressure mattress
• Feed pump
• Respiratory - ventilator & suction unit (does not include CPAP or VPAP or nebulizers)

Click here to read more about our repairs services

Does Aidacare offer Emergency Repairs?

A. Yes! Aidacare offers an Urgent After-Hours Repair Service to TAC clients in situations where a client's mobility or safety is at risk, requiring urgent equipment service. This service is offered throughout Metropolitan Melbourne.
How to request Urgent After Hours Repairs: Call: 1300 133 128 or Email to: serviceah@aidacare.com.au

Aidacare Urgent After-Hours Service Availability
Hours of Operation
Open
Closed
Phone
Weekdays
5.00pm
11.00pm
1300 133 128
Weekends
9.00am
5.00pm
Public Holidays
9.00am
5.00pm

Click

here

to read more about our repairs services

What if I no longer need my equipment?

A. If you do not need the equipment anymore, contact Aidacare on 1300 240 067 to arrange its collection.