Facility Fitouts


Project & Fitout Solutions
Located seven minutes from Melbourne Airport in Keilor Park, the 'Project & Fitout Solutions by Aidacare' experience centre is now open. The 600 square metre space offers a dynamic canvas to facilitate curating and planning interior design solutions for green and brownfield development projects in aged care, retirement living and healthcare.
This unique experience centre enables decision makers in the furniture, fixtures and equipment (FF&E) domain to effortlessly source equipment that is tailored to client needs, with just one point of contact. Project & Fitout Solutions evolved in response to the lack of a focused environment where FF&E industry leaders, architects and interior designers can efficiently deliver complete solutions for clients. Managing projects has historically been costly and time consuming, requiring experts who deal across multiple industries and markets.
'Fitting out' involves more than just great pricing
The assets not only need to meet clinical care requirements but also need to meet the aesthetic objectives of the decision maker in the development.
The installation coordination needs to be streamlined, efficient and organised to integrate with everything else that is on-the-go during site commissioning whilst

managing risk and safety.

Assets need to be backed up with service and maintenance to ensure that warranty terms are observed and that whole-of-life costs are appropriately managed.
Fit-out and refurbishment projects need partners to work together in a trusting and pragmatic manner to achieve the best outcome.
Aidacare has extensive experience with fit-out and refurbishment work. We are the partner of choice for many of Australia's largest Aged Care Facilities and Hospital providers. View our latest project here.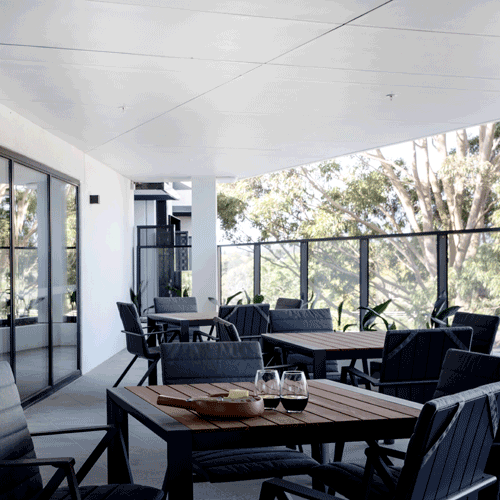 Outdoor Furniture
(Coming Soon)

At Aidacare we work closely with procurement or property services managers to help to define an equipment range that is clinically appropriate; aesthetically appropriate and cost effective across the life of the asset.
We bring expert equipment advice and sourcing capabilities to deliver best-in-class value to our partners.
Our bespoke Procurement Systems allow streamlined ordering, whilst providing insight and budget-control for business operators. Integrated user hierarchies; authority levels; and purchasing controls empower operations-level personnel to make decisions within an effective control environment to prevent budget blow-outs.
Electronic invoicing functionality reduces administrative burden and overhead costs too.

Do you have insight into the number of "split orders" flowing under-the-radar of your monthly authorisation levels and expenditure control programs?
Aidacare can work with you to develop an accessory IP to your procurement system that fits with your existing business processes and controls without the significant costs associated with many "punch-out" systems.
Architects, Builders & Designers
At Aidacare we work closely with a number of Architect, Building & Interior Designer groups across a wide range of applications including:

Product dimensional data
Custom colours and shapes for: Cabinets, Beds, Overbed tables, Furniture & Fittings.
Ceiling Hoist System Installations
Sluice Room / Utility Room Design & Equipment (Sanitizers, Macerators and medical pulp)
Rails, Ramps, Bathroom Fittings
Dining, Lobby and Lounge room furnishings
We offer valuable insight into how clinical equipment can be made to look "homely and attractive" whilst retaining clinical function.
Aidacare represents the well renowned Liko and Prism UK range of ceiling hoists and systems in Australia. Aidacare works with experienced installers using standards-approved equipment and procedures to ensure all installations meet Prism's design and engineering specification requirements.
Installers and engineers work to a Standard Operating Procedure for Ceiling System installation and commissioning. This procedure forms part of our ISO9001 accredited system, helping to deliver consistently high-quality installations which are appropriately certified and commissioned.
Our systems ensure a safe and secure installation with comprehensive training and maintenance programs to support the ongoing safe use and operation of the system.
We can assist with:
Key System Data & Measurements for architects & builders
Best practice installation procedures into different fixtures (Truss / Concrete etc.)
Commissioning and load-testing
Ongoing maintenance and whole-of-life support
Staff training to improve effectiveness & safety
We have assisted our clients with new builds, retro-fittings and compliance assessments of existing systems.

Sluice Room / Pan Room / Utility Room
Aidacare represents the well recognised DDC Dolphin range of Sluice Room Panamatic Sanitisers and Pulpmatic Macerators for the management of cross-infection control in the sluice rooms of Aged Care Facilities and Hospitals.
DDC Dolphin equipment is manufactured in the United Kingdom to very high standards and meets or exceeds all the essential performance & design elements of AS 2437 and AS 4187 as per Australian Certification Services.

We are experiencing significant success with the DDC Dolphin Panamatic Sanitiser and Pulpmatic Macerator range for the following reasons:
Cross-infection control of re-usable devices through steam-cycle disinfection with a Panamatic Sanitiser.
Cross-infection risk elimination through maceration of soiled containers by a Pulpmatic Macerator.
We support DDC Dolphin with competitive service, maintenance & Ao thermal verification certifying.

Energy & water efficient performance.

Single-phase power for easy connection.
Simple plumbing and connection during installation.

Hands-free operation or foot operated support.

Hot & Cold water supply connection options.

A range of sizes of different capacity needs.

The Panamatic and Pulpmatic are SIMPLE & EASY TO USE reducing shift training and risk of error.
Aidacare has regional branches and Network Partners around the country, with major distribution facilities in Brisbane, Sydney, Melbourne, Adelaide & Hobart and distribution partners in Perth and Darwin. Our national distribution network is trusted by government contracts and the largest residential aged care and hospital providers.
Aidacare teams are experienced with delivery and installations. This experience, means we add-value for our clients during the physical execution stage of delivering goods by being streamlined, organised and efficient.
We record the serial number and room-allocation of each asset, providing our clients with immediate insight into their assets.
Our systems record the installation and track maintenance and repair history against each asset, providing whole-of-life insight into equipment and saving cost by tracking warranty appropriately.






Our strength is to help you understand the condition of the equipment in your facility and establish a program to help you manage it protecting you, your staff and your residents or patients.
Aidacare can help with detailed stand-alone Equipment Audits or by integrating our audits with a Preventative Maintenance Program.
Aidacare can also provide Asset Lifecycle Management & Comprehensive Warranty, effectively providing our clients with total comprehensive support for their capital assets for the duration of their useful life.
View our Maintenance & Repair Solutions page for more information.