Medical Aids Subsidy Scheme (MASS) – Trial & Supply OF Assistive Technology (99_3_1)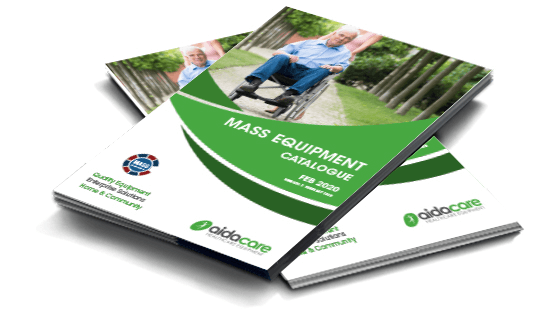 Aidacare are contracted to QLD Health for the supply of a range of beds and mattresses suitable for use in hospitals and health services within QLD. Aidacare have been a reliable and trusted partner for similar contracts for more than 20 years, providing National and state-wide coverage for the supply of equipment and services.
For more information regarding product range and purchase, please contact us.
Customer Service 1300 133 120 - Providing you with immediate advice or referring you to one of our Equipment Consultants.
QLD Health / Bed and Matress related FAQ's
General
What is MASS (Medical Aids Subsidy Scheme)?

A. The aim of MASS is to provide endorsed aids and equipment to eligible Queensland residents with a permanent and stabilised condition or disability. Aids and equipment are selected to assist people to live at home and avoid premature or inappropriate residential care or hospitalisation. To meet this aim the aids and equipment subsidised by MASS must be required for use within the home. MASS subsidy funding is not available where the sole purpose is to access the community (for community access, CAEATI funding and support is required).
Applicant
Am I eligible for MASS funding?

A. Administrative eligibility Criteria
1. You are a permanent Queensland resident
2. You must hold one of the following eligibility cards - in your name:
• Centrelink Pensioner Concession Card
• Centrelink Health Care Card
• Centrelink Confirmation Concession Card Entitlement Form (conditions apply)
• Department of Veteran Affairs (DVA) pensioner Concession Card (conditions apply);
• Queensland Government Seniors Card.

Clinical eligibility
Clinical eligibility will be determined by the MASS Clinical Advisor based on information provided by the prescriber regarding whether:
1. You have a permanent and stabilised condition or disability which restricts activities in the home environment
2. Clinical justification is documented by the prescribing health professional from a functional and clinical perspective as to why the aids and equipment are required
3. Equipment can be appropriately stored and maintained.

Persons not eligible for assistance Persons will generally not be eligible if they are in receipt of assistance or funding for medical aids and equipment under one or more State or Commonwealth government funded programs eg.:
1. Workcover
2. DVA (if eligible) 3. Commonwealth residential care facility recipients, as follows: a. for oxygen - all classifications
b. for other aids and equipment - have a classification of a high rating in any domain category or a medium rating in two or more domain categories per the Aged Care Funding Instrument (ACFI) assessment as noted in the Quality of Care Principles 2014 Subsection 7 (6).
4. Home Care Package - All Level 3 & Level 4 recipients of Aged Care (Living Longer Living Better) Bill 2013
5. For oxygen All Level 1 to 4 recipients.
6. Consumer Directed Care (CDC) high care program recipients
7. Hospital in-patients
8. Palliative care eligible persons
9. Persons in receipt of compensation or damages in respect of their disability
10. Children under the age of 5 years for continence pads and nappies.

MASS does not provide subsidy funding for aids and equipment that are:
1. Primarily needed for use to access the community, including school and work
2. Needed for short-term post acute care
3. Needed for therapy or rehabilitation programs

Ongoing Eligibility
A person must meet eligibility requirements to receive on-going funding assistance. Should the person become MASS eligible again, MASS will consider further funding assistance based on records of equipment previously supplied.

Will MASS fund all of the associated costs of my aids and equipment?

A. MASS aims to assist as many people as possible; however, as it is a subsidy scheme it may not meet the person's total needs. In some cases, the person will be asked to make a co-payment (see below co-payments).

It is important for applicants and professionals to know that:
• MASS provides subsidy funding towards an aid that is MASS endorsed
• MASS does not reimburse any portion of a person's private funding
• MASS will not fund aids and equipment retrospectively, including temporary arrangements made by the person/applicant, health professional or other agency for supply of the aids or equipment.

Co-payments may occur in the following areas of MASS:

A co-payment arrangement is required where:
1. A MASS approved aid, accessories or modifications exceeds the maximum MASS subsidy funding levels
2. Accessories or modifications are requested by the applicant but not funded through MASS (subject to clinical justification provided)

Conditions of Co-payment are that:
1. MASS co-payment arrangement will be with the applicant only MASS does not enter into co-payment arrangements with a third party
2. MASS retains ownership of the permanent loan aid and will assume responsibility for reasonable repairs and maintenance.
3. Applicants must provide MASS with a signed statutory declaration to agree to their copayment responsibility
4. The applicant will make their co-payment direct to the supplier
5. MASS does not reimburse co-payments
6. Where an applicant contributes a co-payment of more than 50% to the total cost of an aid, including modifications and accessories, refer to page 17, Exceptions to Permanent Loan Arrangements.

Prescriber
What are my general responsibilities as a MASS prescriber?

A. MASS operates through a prescriber model. This means that:
1. There are designated MASS prescribers for each category of aids and equipment
2. Prescribers, in consultation with the applicant, submit an application on behalf of the applicant.

Prescribers:
1. Are responsible for the accuracy of the prescription/application
2. Have current registration with their relevant National Registration Board or equivalent
3. Familiarise themselves with the following documents: "General Guidelines: Medical Aids Subsidy Scheme" and the relevant Application Guidelines for different categories of equipment
4. Ensure that the applicant is fully involved in the prescription/application process
5. Make the applicant aware of the scope of the service provided by MASS, including:
a. Eligibility criteria
b. Conditions of supply
c. Co-payment responsibilities
d. Where applicable
i. Waiting lists - these may apply when demand for subsidy assistance exceeds available
ii. That MASS approval is not automatic and that all criteria must be met
iii. Making the applicant aware that they should contact MASS within 14 days of any change of either residential address, or eligibility for MASS funding subsidy e.g. no longer eligible for a Health Care Card
iv. Ensure continuity of service, by arranging a new prescriber, if unable to continue working with applicant during the assessment, trial or follow up stage of the process.


What are my responsibilities during the assessment phase as a MASS prescriber?

A. 1. Conduct a full functional assessment of the applicant's need and consider all aids and equipment options in terms of function, cost and usage within the home environment
2. Consult with MASS clinical advisors, or other experienced prescribers as necessary to assist the prescription/application process.

What are my responsibilities during the equipment selection phase as a MASS prescriber?

A. 1. Where required, conduct an appropriate trial of the aid or equipment
2. Select aids and equipment from the MASS Standing Offer Arrangement (SOA) where one is in place for the category of aid prescribed
3. Provide clinical justification if prescribing aids and equipment not on the SOA, including why the comparable SOA aids and equipment are not suitable
4. Ensure that the applicant's home is compatible with long term use of the aid, including that it can be used safely, manoeuvred, stored and maintained by the applicant
5. Where the applicant's request and expectations differ from the prescriber's assessment and recommendation, the issues are to be resolved prior to the application being submitted to MASS
6. Be aware that MASS will not pay for a replacement/exchange item that has been inappropriately/incorrectly prescribed, once ordered. MASS will refer these cases back to the original prescriber's agency for their funding consideration.


What aids and equipment can I prescribe?

A. As an Occupational Therapist, Physiotherapist, Rehabilitation Engineer, Registered Nurse (in consultation with Designated Health Prescriber in rural and remote locations) OR Registered Nurse for non-mobile commodes all locations I can prescribe the following:

Mobility Aids • Infant / child seated mobility aid
• Manual wheelchairs
• Powerdrive wheelchairs
• Accessories and/or modifications to wheelchairs
• Wheeled walking aids
• Foam and pressure redistribution wheelchair cushions

Daily Living Aids

• Bathboards (raised/backrest/ extended and/or padded only)

• Non-mobile commodes

• Bath transfer benches/swivel bath seat/ bath hoist or other item of equipment which achieves the same function

• Mobile floor hoists and slings

• Mobile Shower Commode

• Accessories and/or modifications to mobile shower commodes

• Pressure redistribution mattresses

Where can I find additional resources for MASS prescribers?