Aspire Socialite
LIGHTWEIGHT FOLDING WHEELCHAIR
Arrive in style...
The Aspire Socialite is an ultra light weight transport chair perfect for short trips and outings with friends or family, weighing only 8.9 kg. The generous 115kg safe working load caters to a broad range of users.

Contoured padded and breathable seat and back provide optimum comfort and postural support. Cut away arms improve table access and the offset uprights create hip space for coats and warmer clothing.
Compact and lightweight wheelchair with a tight turning circle is suitable to use within the home to support those with limited mobility and endurance.
Wheelchairs provide increased mobility and independence for the user and their carer, allowing them to take part in everyday activities, despite having reduced mobility
For additional comfort a low profile cushion can be added to velcro flaps that lift up on both sides of the seat.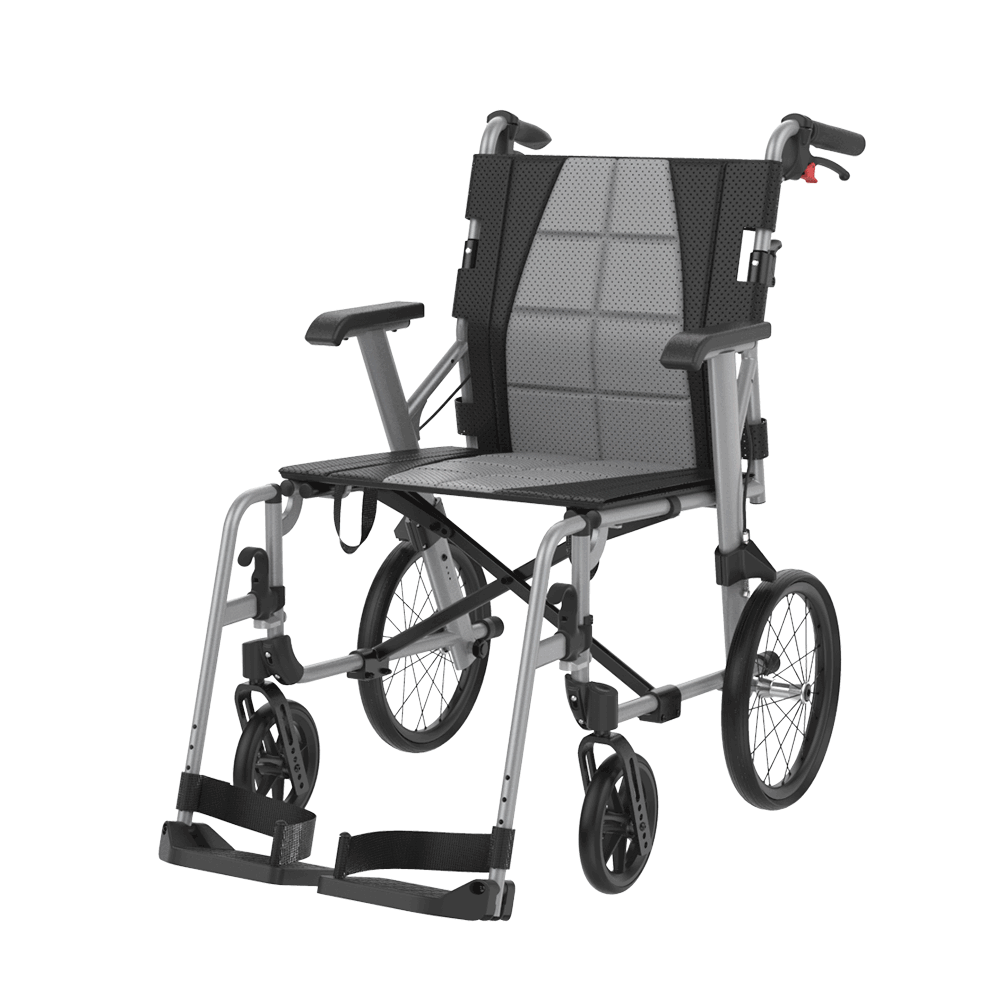 DASH
FOLDING WHEELCHAIR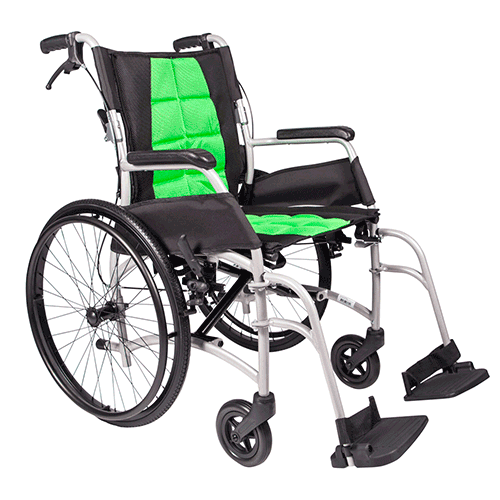 Aspire Dash is a super lightweight transport wheelchair.
Available as an attendant propelled and self-propelled wheelchair.
Simple and intuitive folding for easy transportation.
Removable leg rests and folding back for compact storage.
Two colour options: green or orange
The ergonomic backrest and seat shape follow the contours of the user to maximise comfort and postural support.
The 135kg safe working load caters to a broad range of people.
Anti-tippers  are Available here
WHILL MODEL C2
POWER WHEELCHAIR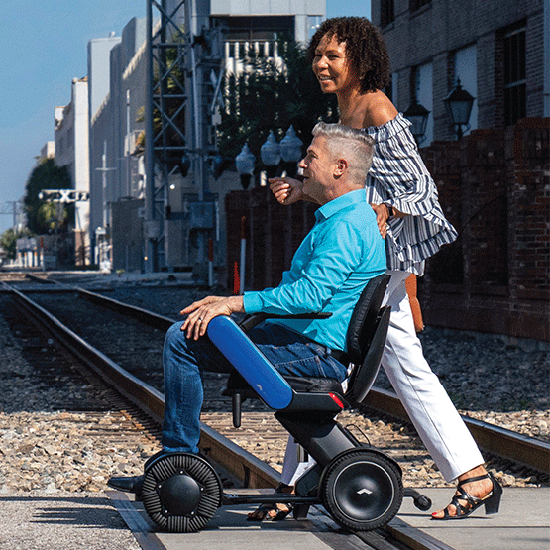 The WHILL Model C2 is a revolutionary approach to power mobility that encompasses all the exciting features of the C. It uniquely boosts user confidence and evokes an active, can-do lifestyle.
Its premium performance and superb engineering provide versatility and reliability to experience all-day adventures.
Rear wheel suspension: Absorbs the impact when driving over bump roads or obstacles.
Up to a 45% tighter turning radius than tiller operated mobility devices.
Easy disassembly enables the power wheelchair to be broken down into 3 lightweight parts for transport in any vehicle
The lithium battery allows upto 16km travel range and speeds upto 8km/hour
Front omni-wheels that can handle uneven surfaces of up to 50mm in height
PAWS
POWER ASSISTED WHEELCHAIR SYSTEMS
With PAWS, your manual wheelchair becomes an exciting vehicle to get out and about!
Automatic Easy Clamps - simply roll your wheelchair into the clamps and at the push of a button, automatic clamping and lifting will get you ready to go in the driving position.
Optional Tetra Controls allow you to drive easily, even with reduced upper limb strength and control.
Auto Lift, you don't need to use upper body strength to connect PAWS with the wheelchair.
Customise the set-up with different configurations of clamps, steering, wheels, and accessories for optimal use and fit – especially beneficial for quadriplegic/tetraplegic users.
LEVO C3
STAND UP WHEELCHAIR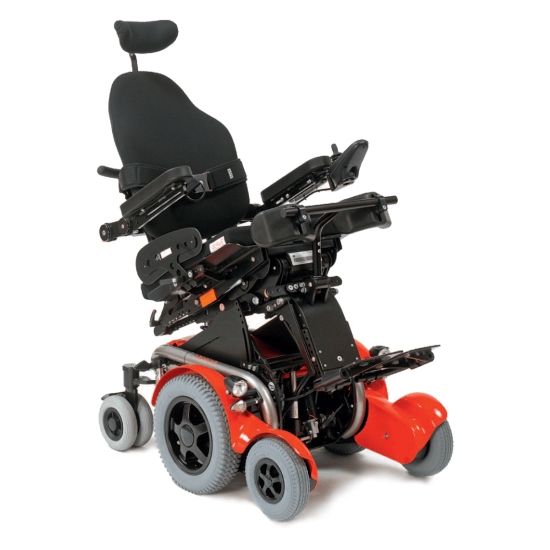 The powered LEVO C 3 is compact, agile, easy to handle and extremely powerful – perfect for active people on the move.
The touch of a switch elevates to a safe, comfortable standing position to interact with an active life. At work, in school or at home, LEVO standing wheelchairs, offer exactly what you need: Independence, Mobility, Support, Health and Quality.
The LEVO C3 incorporates a new generation advancement in the famous LEVO low shearing standing systems.
Elevates to a safe, comfortable standing position to interact with an active life.
Low seat height for transfers and driving undertables.
Individually and manually adjustable for upper and lower leg, foot position and back angle.
Easy adjustment to individual body measurements.
PARAMOTION
GOLF POWERED WHEELCHAIR
The ParaMotion is particularly characterised by its offroad capability.
It is primarily for use on the golf course but suits most outdoor activities due to its off-road capabilities.
Includes seat suspension to avoid pressure points.
The rear wheels freely rotate around the steering axle, which results in better manoeuvrability, and driving stability.
Facilitates inclusivity and participation in playing golf.
Ideal for rural locations and terrain.
Caters to a broad range of people with a generous 140kg SWL.

Aspire Lift Recline Chairs
ASPIRE MONET DUAL ACTION LIFT RECLINE CHAIR
The Monet Dual Action offers independent control of back, leg and headrest functions, giving the user infinite positioning options at their fingertips.
The heating function provides warmth and comfort during the colder months whilst Zero Gravity tilt-in-space positioning creates a feeling of weightlessness and promotes pressure redistribution.
ASPIRE REMBRANDT QUATTRO LIFT RECLINE CHAIR
The Rembrandt Quattro offers a unique seating experience. With independent control of back, leg, lumbar and headrest functionality, the user has infinite positioning options with the press of a button.
Genuine shiatsu massage coupled with optional heating gives users a truly unique and luxurious comfort experience. Zero Gravity tilt-in-space positioning creates a feeling of weightlessness and promotes pressure redistribution.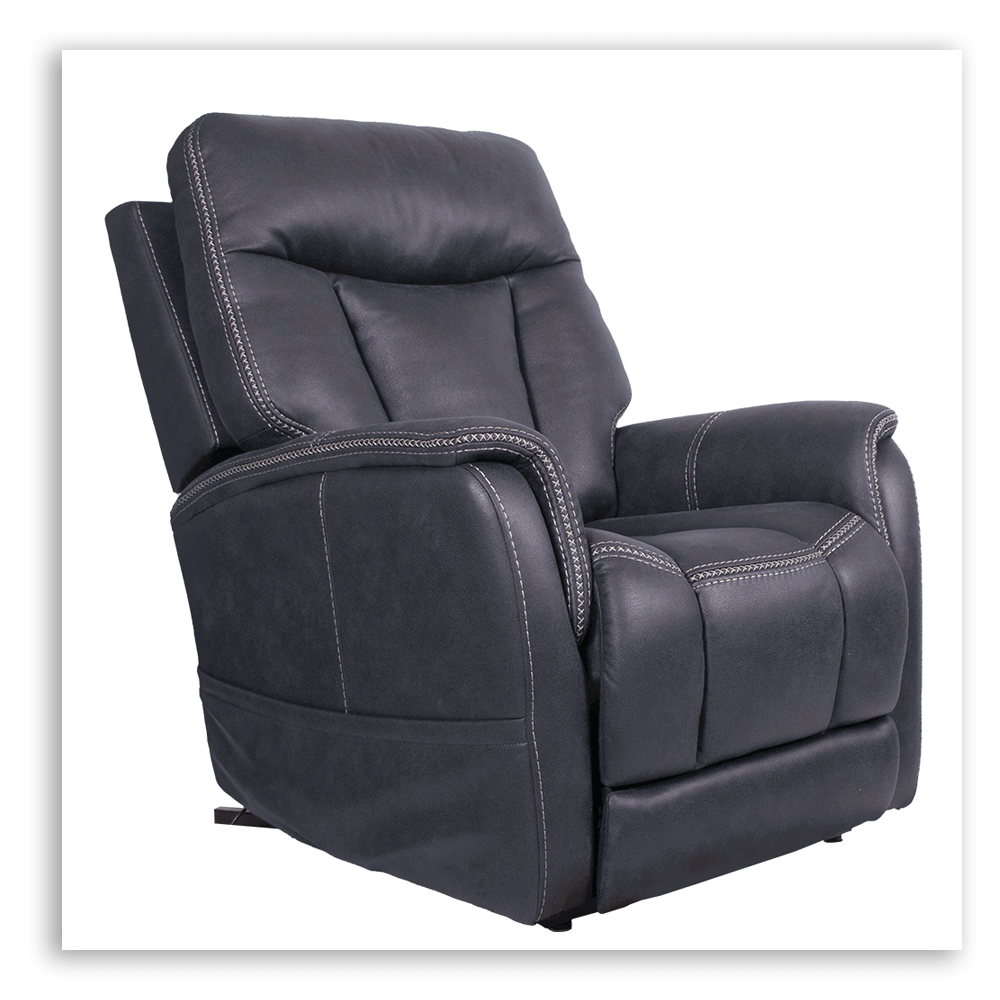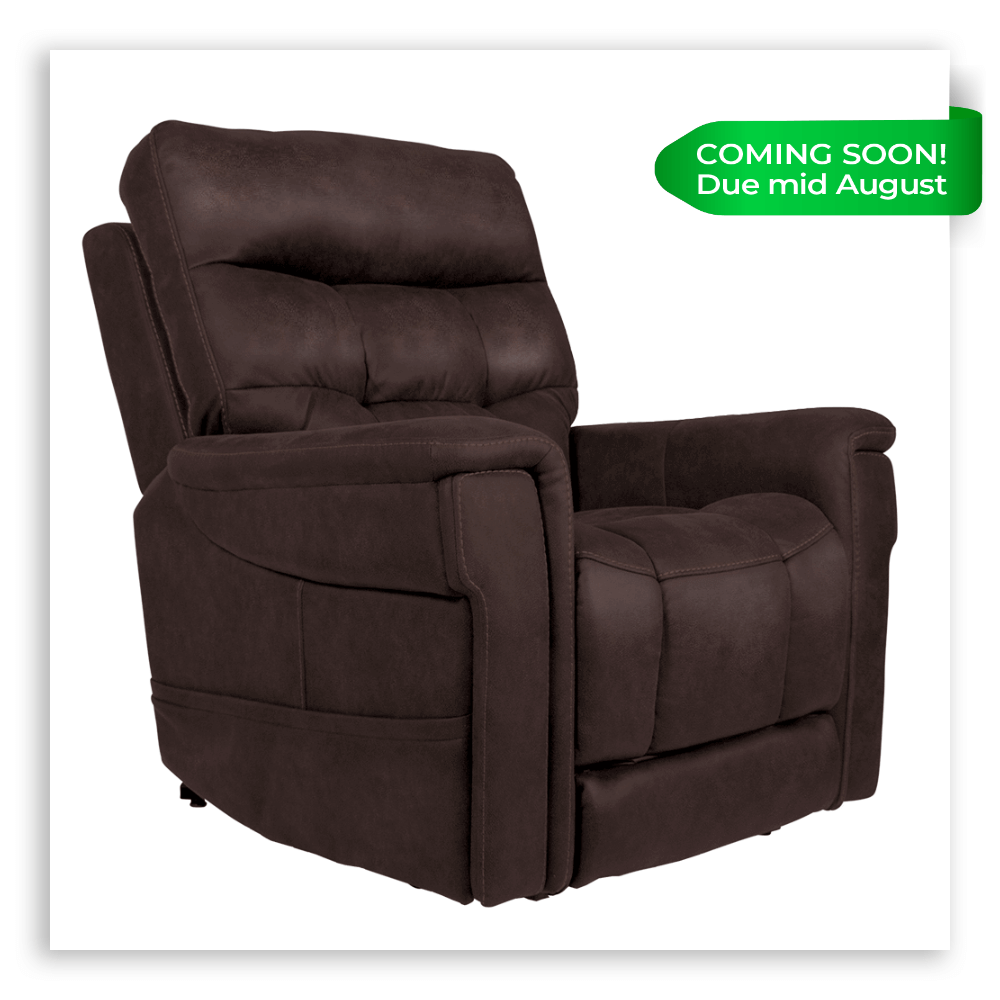 ASPIRE RAPHAEL CUSTOM LIFT RECLINE CHAIRS
Your favourite Aspire Raphael lift recline chair is now available in a range of fabrics and colours, customise your chair to match your style and personal needs, click the swatch image to view more.
ASPIRE COVE
PRESSURE RELIEF CHAIR
The Aspire Cove Chair is a mobile chair designed to improve postural, pressure care and comfort outcomes for users requiring medium to high level support.
Users can be easily transported in comfort to facilitate inclusiveness and social interaction.
Adjustable Pressure Seat Cushion: A hybrid air-foam seat cell offers convenient pressure adjustment to carers and maintenance staff.
Infinite Tilt and Leg Positioning: Carers can easily adjust the Tilt position through a 40O range to effectively redistribute sitting pressure away from vulnerable bony prominences.

Aspire ComfiMotion
ACTIV CARE ADJUSTABLE BED
Supporting the modern independent lifestyle ...
The Activ Care bed combines the best of in-home care functionality, positioning and low height safety with luxurious and contemporary style for enhanced comfort, care and wellbeing.


Ultra Low Height: Minimum platform height of 195mm reduces falls risk, improving user safety.
Safe Working Load: A generous 250 kg sets this bed apart from the rest.
Head Tilt: Relaxes neck muscles, providing optimal support whilst reading or watching TV.
Back Raise: Improves postural support and can ease symptoms of reflux, respiratory conditions, snoring and sleep apnoea.
Auto–Regression in the Backrest: Stops the user sliding down the bed during movement while improving comfort and maximising pressure redistribution.
Clinical Positioning: One touch raises back and legs to alleviate cardiac exertion, improving resting comfort.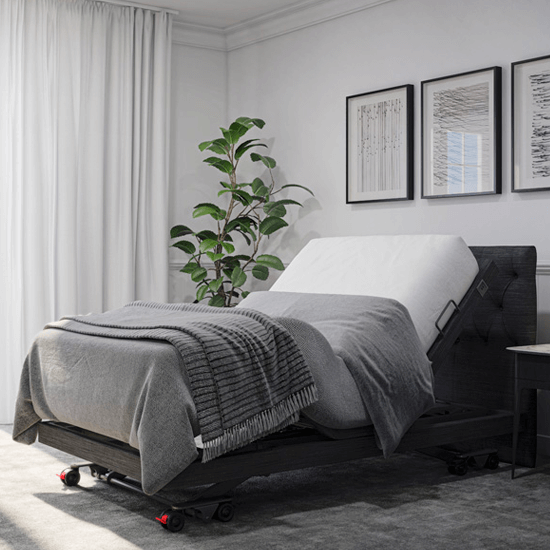 ASPIRE MAXI
LIFESTYLE COMMUNITY
ADJUSTABLE BED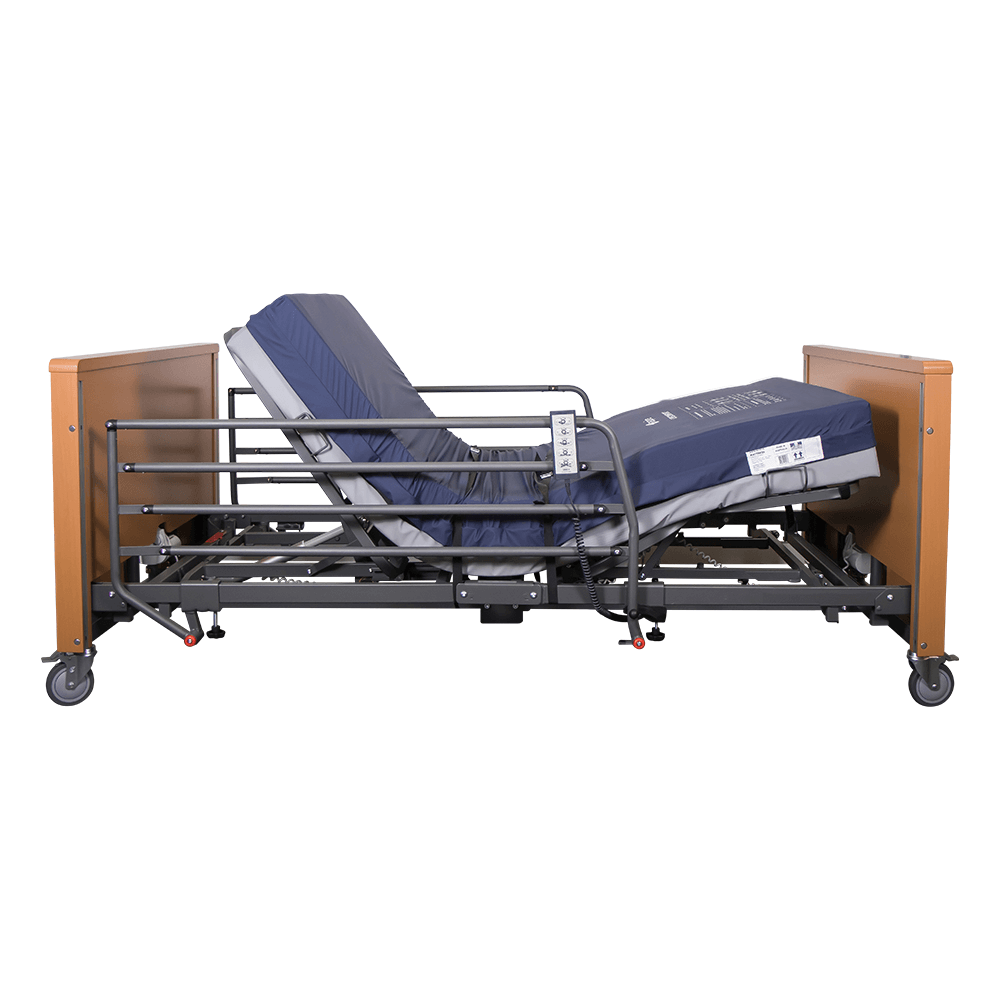 The Aspire Maxi Lifestyle Community Bed is a stylish, convenient and economical solution for users weighing up to 350kg.
Bed functions provide height adjustability to achieve optimal height to assist bed transfers on good and bad days.
A small footprint when folded improves storage options in space-constrained facilities.
Single-button press electrical folding mechanism requires no lifting and improves workplace health & safety outcomes for delivery staff and maintenance teams.
ASPIRE LIFECOMFORT MAXI
LIFESTYLE PRESSURE CARE FOAM MATTRESS
The LIFECOMFORT® MAXI LIFESTYLE is a robust support surface designed for larger users up to 350kg.
Fitted with superior, hospital-grade polyurethane-coated covers designed to withstand the rigours of usage and cleaning requirements in Home Care, Aged Care and up to Acute Care environments.
Sidewall foam density is strengthened to assist heavier users with bed entry and exit.
Three foam tiers provide immersion for pressure redistribution and comfort as well as support.
Reduced risk for developing a pressure injury.
Reduced pain, cost and increased support needs associated with incurring a pressure injury.
4HC Caeli
COMBINATION MATTRESS SYSTEM
Combination mattress replacement system combining 125mm low air loss alternating cells with a 50mm protective foam underlay.
Ideal for pressure injury prevention in the home, community and residential aged care environments.
Fluid-resistant cover with two-way stretch material.
Low air loss cells assist with cooling, reducing moisture build-up.
Reduced pain, cost and increased support needs associated with incurring a pressure injury

ASPIRE STAR
PATIENT MOVER

The Aspire Star Mover offers a safe and comfortable solution for patients and carers doing sit to stand transfers.
The compact and versatile design is perfect for Homecare, Institutional and Aged Care environments.
Wide seat entry suits a large range of body shapes (SWL 185kg).
Large 100mm castors (with two rear locking) have low rolling resistance and offer a smooth ride during transportation.
Width adjustable legs with tapered close position allow access between and, or around chair legs including wider, recliner chairs.
Clip attachment points are compatible with Aspire Deluxe Standing Slings for additional peace of mind.
ASPIRE PPE DISPENSER
NESTING BASE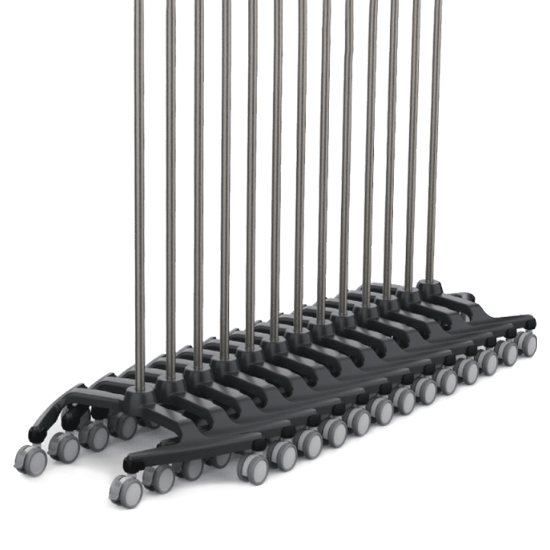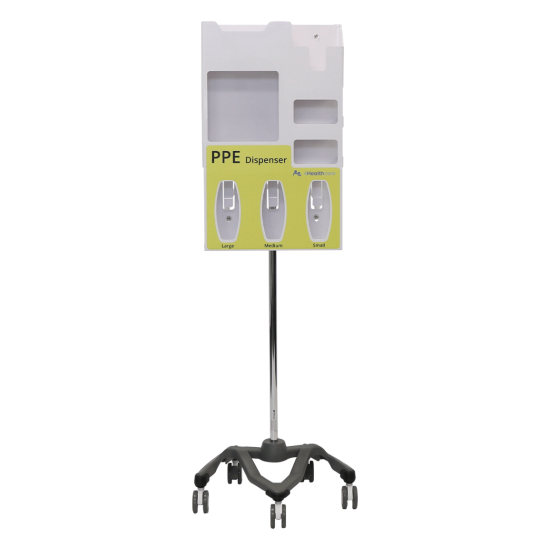 Nesting Base Design - minimises stacking and storage space.
Mobile Storage for key PPE - ensure items such as sanitiser, wipes, gowns, masks and gloves are readily available.
Sturdy Cast-Iron Base - extremely stable to accommodate a full load of PPE items ready to dispense.
MOTOMED
Movement Therapy
MOTOmed Movement Therapy was developed for people with movement restrictions, it complements physical, ergo and sports therapy measures. Patients can be trained while seated in a chair/wheelchair or in a supine position from a nursing bed or therapy couch.
Motor-driven movement is ideal for the regulation of muscle tone, loosening stiff muscles and early mobilization after long rests.
Passive training stimulates blood circulation, digestion and joint flexibility.
SymmetryTraining is beneficial when aiming to target train the weaker side of the body.
People with minimal muscle strength can train actively without overstraining
TEQ-SECURE & TEQ-HOME
SAFETY PENDANT & HOME ALARM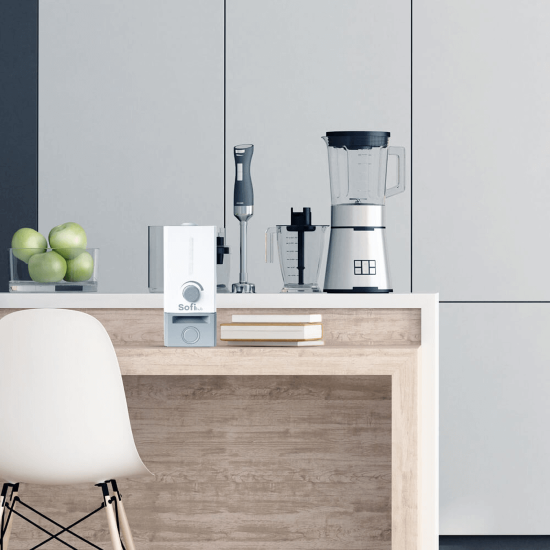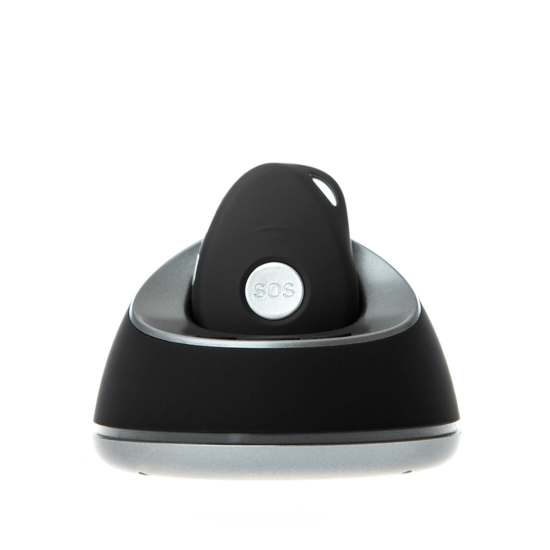 TEQ-Secure Safety Pendant powered by SOFIHUB is a lightweight, easy to use mobile personal alert system and can issue an emergency SOS to multiple people at the touch of a button via SMS.
TEQ-Home Alarm powered by SOFIHUB has been developed for a single person home and provides greetings, reminders and alerts. TEQ-Home is packaged with a hub and 8 sensors.
The unique intuitive technology assists in visualising behaviours and then raises an alert when behaviours are different.
Increased independence and confidence in living alone
Reduced formal and informal carer support and peace of mind for carers
Improved health and wellbeing, choice and control