Product Comparison
{{variant.Name}}
{{variant.Code}}
{{variant.SalePrice}}
{{variant.ListPrice}}
{{variant.UOM}}
{{comparisonProductsError}}
You can add up to four products to the compare list. To view full detail, please click COMPARE.
Breezy Basix 2
Previous
Next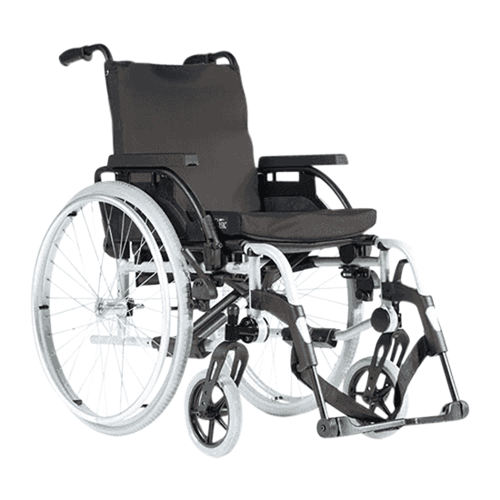 Folding lighweight chair
Available in self-propelled or transit
Adjustable push handle height (+/- 3")
Available with folding backrest
Tension adjustable upholstery on backrest
Swing away legrests as standard
Drum break option available (16, 18 & 20")
41 - 46 cm adjustable seat depth
Castor angle adjustment 0, 3 & 6 degrees
Contract, Trade and Volume Prices may be available. To find out if they are available for this product, please contact us here.
Breezy Basix 2 - 20" Wide w/24" Solid Rear Wheels - Red
MWS449097
Breezy Basix 2 - 16" Wide w/24" Solid Rear Wheels - Red
MWS449108
Breezy Basix 2 - 18" Wide w/24" Solid Rear Wheels - Red
MWS449114
Breezy Basix 2 - 16" Wide w/24" Pneumatic Rear Wheels - Silver
MWS449106
Breezy Basix 2 - 18" Wide w/24" Pneumatic Rear Wheels - Silver
MWS449113
Breezy Basix 2 - 20" Wide w/24" Pneumatic Rear Wheels - Silver
MWS449120
Breezy Basix 2 - 16" Wide w/24" Solid Rear Wheels & Height Adj Armrest - Silver
MWS449093
Breezy Basix 2 - 18" Wide w/24" Solid Rear Wheels & Height Adj Armrest - Silver
MWS449095
Breezy Basix 2 - 20" Wide w/24" Solid Rear Wheels & Height Adj Armrest - Silver
MWS449099
Breezy Basix 2 - 16" Wide w/24" Solid Rear Wheels & Folding Backrest - Silver
MWS449110
Breezy Basix 2 - 18" Wide w/24" Solid Rear Wheels & Folding Backrest - Silver
MWS449117
Breezy Basix 2 - 20" Wide w/24" Solid Rear Wheels & Folding Backrest - Silver
MWS449122
Breezy Basix 2 - 18" Wide w/24" Solid Rear Wheels & Drum Brakes - Silver
MWS449112
Breezy Basix 2 - 20" Wide w/24" Solid Rear Wheels & Drum Brakes - Silver
MWS449119
Breezy Basix 2 - 14" Wide w/12" Solid Rear Wheels & Folding Backrest - Silver
MWS449104
Breezy Basix 2 - 16" Wide w/12" Solid Rear Wheels & Folding Backrest - Silver
MWS449111
Breezy Basix 2 - 18" Wide w/12" Solid Rear Wheels & Folding Backrest - Silver
MWS449118
Breezy Basix 2 - 20" Wide w/12" Solid Rear Wheels & Folding Backrest - Silver
MWS449123
Specifications

| Code | Display Name | Seat Depth | Seat Width | Backrest Height | Seat To Floor Height | Safe Working Load | Unit Weight | Frame Weight | Colour | Material |
| --- | --- | --- | --- | --- | --- | --- | --- | --- | --- | --- |
| MWS449097 | Breezy Basix 2 - 20" Wide w/24" Solid Rear Wheels - Red | 410 - 460 mm | 520 mm | 410 - 460 mm | 425 - 510 mm | 125 kg | 14.9 kg | 8.4 kg | Red | Aluminium |
| MWS449108 | Breezy Basix 2 - 16" Wide w/24" Solid Rear Wheels - Red | 410 - 460 mm | 400 mm | 410 - 460 mm | 425 - 510 mm | 125 kg | 14.9 kg | 8.4 kg | Red | Aluminium |
| MWS449114 | Breezy Basix 2 - 18" Wide w/24" Solid Rear Wheels - Red | 410 - 460 mm | 460 mm | 410 - 460 mm | 425 - 510 mm | 125 kg | 14.9 kg | 8.4 kg | Red | Aluminium |
| MWS449106 | Breezy Basix 2 - 16" Wide w/24" Pneumatic Rear Wheels - Silver | 410 - 460 mm | 400 mm | 410 - 460 mm | 425 - 510 mm | 125 kg | 14.9 kg | 8.4 kg | Silver | Aluminium |
| MWS449113 | Breezy Basix 2 - 18" Wide w/24" Pneumatic Rear Wheels - Silver | 410 - 460 mm | 460 mm | 410 - 460 mm | 425 - 510 mm | 125 kg | 14.9 kg | 8.4 kg | Silver | Aluminium |
| MWS449120 | Breezy Basix 2 - 20" Wide w/24" Pneumatic Rear Wheels - Silver | 410 - 460 mm | 520 mm | 410 - 460 mm | 425 - 510 mm | 125 kg | 14.9 kg | 8.4 kg | Silver | Aluminium |
| MWS449093 | Breezy Basix 2 - 16" Wide w/24" Solid Rear Wheels & Height Adj Armrest - Silver | 410 - 460 mm | 400 mm | 410 - 460 mm | 425 - 510 mm | 125 kg | 14.9 kg | 8.4 kg | Silver | Aluminium |
| MWS449095 | Breezy Basix 2 - 18" Wide w/24" Solid Rear Wheels & Height Adj Armrest - Silver | 410 - 460 mm | 460 mm | 410 - 460 mm | 425 - 510 mm | 125 kg | 14.9 kg | 8.4 kg | Silver | Aluminium |
| MWS449099 | Breezy Basix 2 - 20" Wide w/24" Solid Rear Wheels & Height Adj Armrest - Silver | 410 - 460 mm | 520 mm | 410 - 460 mm | 425 - 510 mm | 125 kg | 14.9 kg | 8.4 kg | Silver | Aluminium |
| MWS449110 | Breezy Basix 2 - 16" Wide w/24" Solid Rear Wheels & Folding Backrest - Silver | 410 - 460 mm | 400 mm | 410 - 460 mm | 425 - 510 mm | 125 kg | 14.9 kg | 8.4 kg | Silver | Aluminium |
| MWS449117 | Breezy Basix 2 - 18" Wide w/24" Solid Rear Wheels & Folding Backrest - Silver | 410 - 460 mm | 460 mm | 410 - 460 mm | 425 - 510 mm | 125 kg | 14.9 kg | 8.4 kg | Silver | Aluminium |
| MWS449122 | Breezy Basix 2 - 20" Wide w/24" Solid Rear Wheels & Folding Backrest - Silver | 410 - 460 mm | 520 mm | 410 - 460 mm | 425 - 510 mm | 125 kg | 14.9 kg | 8.4 kg | Silver | Aluminium |
| MWS449112 | Breezy Basix 2 - 18" Wide w/24" Solid Rear Wheels & Drum Brakes - Silver | 410 - 460 mm | 460 mm | 410 - 460 mm | 425 - 510 mm | 125 kg | 14.9 kg | 8.4 kg | Silver | Aluminium |
| MWS449119 | Breezy Basix 2 - 20" Wide w/24" Solid Rear Wheels & Drum Brakes - Silver | 410 - 460 mm | 520 mm | 410 - 460 mm | 425 - 510 mm | 125 kg | 14.9 kg | 8.4 kg | Silver | Aluminium |
| MWS449104 | Breezy Basix 2 - 14" Wide w/12" Solid Rear Wheels & Folding Backrest - Silver | 410 - 460 mm | 360 mm | 410 - 460 mm | 425 - 510 mm | 125 kg | 14.9 kg | 8.4 kg | Silver | Aluminium |
| MWS449111 | Breezy Basix 2 - 16" Wide w/12" Solid Rear Wheels & Folding Backrest - Silver | 410 - 460 mm | 400 mm | 410 - 460 mm | 425 - 510 mm | 125 kg | 14.9 kg | 8.4 kg | Silver | Aluminium |
| MWS449118 | Breezy Basix 2 - 18" Wide w/12" Solid Rear Wheels & Folding Backrest - Silver | 410 - 460 mm | 460 mm | 410 - 460 mm | 425 - 510 mm | 125 kg | 14.9 kg | 8.4 kg | Silver | Aluminium |
| MWS449123 | Breezy Basix 2 - 20" Wide w/12" Solid Rear Wheels & Folding Backrest - Silver | 410 - 460 mm | 520 mm | 410 - 460 mm | 425 - 510 mm | 125 kg | 14.9 kg | 8.4 kg | Silver | Aluminium |