Product Comparison
{{variant.Name}}
{{variant.Code}}
{{variant.SalePrice}}
{{variant.ListPrice}}
{{variant.UOM}}
{{comparisonProductsError}}
You can add up to four products to the compare list. To view full detail, please click COMPARE.
JAY - J2 Cushion
Previous
Next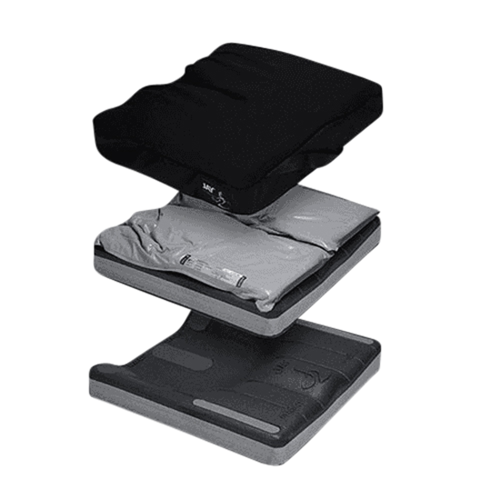 Designed for the client who has moderate to more aggressive postural needs that may change over time
The J2 pre-contoured, closed-cell, lightweight, foam base provides excellent lateral and forward/rearward stability creating a foundation for postural stability
The base fluid pad can be modified/customised on site to accommodate fixed postures or to correct flexible postures. Modifications can support changing needs over time
Optional solid seat inserts provide extra postural stability discouraging the cushion from slinging with the chair upholstery
Postural accessories such as medial and lateral thigh supports, lateral pelvic supports and pelvic obliquity supports can be added to the cushion
The 'Jay Flow' fluid Tripad conforms to bony prominences, distributes pressure more evenly and reduces peak pressures. The Tripad design assists in maintaining fluid under the at-risk bony areas
Most suitable for the client who is at higher risk of skin breakdown and who has poor skin integrity
Balistic Stretch & Incontinence cover also availableVTOP
All models include Air Exchange Cover
Warranty Information
2 Years Cushion
6 Months cover
Contract, Trade and Volume Prices may be available. To find out if they are available for this product, please contact us here.
Specifications

| Code | Display Name | Total Height | Safe Working Load | Pressure Care Rating | Material |
| --- | --- | --- | --- | --- | --- |
| PTC563400 | JAY J2 - 14 x 16in | 3 in | 113 kg | Very High Risk | Foam |
| PTC563500 | JAY J2 with Incontinence Cover - 14 x 16in | 3 in | 113 kg | Very High Risk | Foam |
| PTC562600 | JAY J2 with Incontinence Cover - 15.5 x 16in | 3 in | 113 kg | Very High Risk | Foam |
| PTC562900 | JAY J2 with Incontinence Cover - 15.5 x 18in | 3 in | 113 kg | Very High Risk | Foam |
| PTC563300 | JAY J2 with Incontinence Cover - 15.5 x 20in | 3 in | 113 kg | Very High Risk | Foam |
| PTC562500 | JAY J2 - 16 x 16in | 3 in | 113 kg | Very High Risk | Foam |
| PTC562700 | JAY J2 - 16 x 18in | 3 in | 113 kg | Very High Risk | Foam |
| PTC563000 | JAY J2 - 16 x 20in | 3 in | 113 kg | Very High Risk | Foam |
| PTC563800 | JAY J2 - 17 x 17in | 3 in | 113 kg | Very High Risk | Foam |
| PTC564000 | JAY J2 with Incontinence Cover - 17 x 17in | 3 in | 113 kg | Very High Risk | Foam |
| PTC563801 | JAY J2 with Air Exchange Cover - 17 x 17in | 3 in | 113 kg | Very High Risk | Foam |
| PTC561100 | JAY J2 - 18 x 16in | 3 in | 113 kg | Very High Risk | Foam |
| PTC561200 | JAY J2 with Incontinence Cover - 18 x 16in | 3 in | 113 kg | Very High Risk | Foam |
| PTC561300 | JAY J2 - 18 x 18in | 3 in | 113 kg | Very High Risk | Foam |
| PTC561700 | JAY J2 with Air Exchange Cover - 18 x 18in | 3 in | 113 kg | Very High Risk | Foam |
| PTC561800 | JAY J2 with Incontinence Cover - 18 x 18in | 3 in | 113 kg | Very High Risk | Foam |
| PTC562100 | JAY J2 - 18 x 20in | 3 in | 113 kg | Very High Risk | Foam |
| PTC562300 | JAY J2 with Incontinence Cover - 18 x 20in | 3 in | 113 kg | Very High Risk | Foam |
| PTC563700 | JAY J2 - 20 x 16in | 3 in | 113 kg | Very High Risk | Foam |
| PTC564100 | JAY J2 - 20 x 18in | 3 in | 113 kg | Very High Risk | Foam |
| PTC561900 | JAY J2 - 20 x 20in | 3 in | 113 kg | Very High Risk | Foam |
| PTC562400 | JAY J2 - 24 x 20in | 3 in | 113 kg | Very High Risk | Foam |