Product Comparison
{{variant.Name}}
{{variant.Code}}
{{variant.SalePrice}}
{{variant.ListPrice}}
{{variant.UOM}}
{{comparisonProductsError}}
You can add up to four products to the compare list. To view full detail, please click COMPARE.
ROHO - Contour Select
Previous
Next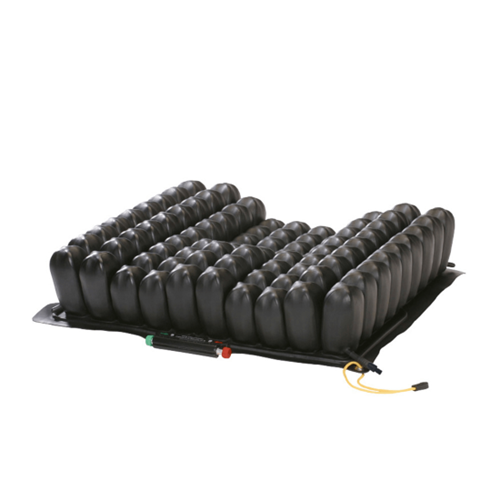 The contoured design positions the pelvis back in the wheelchair, and centers the individual comfortably in the middle of cushion. The ISOFLO® Memory Control unit locks air into each of the four compartments, providing stability by minimizing side-to-side and front to back motion.
A unique combination of high(4"), mid(3") and low(2") profile cells in the one cushion centre the user and position the pelvis back in the wheelchair providing greater lateral stability through chanelling of the legs
ISOFLO Memory Control locks air into compartments to help maintain better postural integrity in addition to pressure reduction
Interconnected cells help disburse pressure and reduce shear risk promoting pressure management
Appropriate for clients with high risk of ischemic ulcers and need for greater positioning support
Soft neoprene construction is flame retardant and durable
Maximum User Weight: Unlimited
All models include: 2 way stretch cover, Hand pump & Repair kit, Operating instructions
ndis
Item Code: 05_181006190_0105_1_2
Pressure Care Cushion – Composite:05_429_0103_1_2
Click here for more information
Compliance
EN-ISO 10993-10 (1999-11) / EN 1021-1 and EN 1021-2

Specifications

| Code | Display Name | Total Height | Safe Working Load | Pressure Care Rating | Material |
| --- | --- | --- | --- | --- | --- |
| PTC594100 | ROHO Contour Select - 15 x 15in - (8 x 8cell) | 4.25 in | Unlimited | Very High Risk | Air Cells |
| PTC594200 | ROHO Contour Select - 15 x 16.75in - (8 x 9cell) | 4.25 in | Unlimited | Very High Risk | Air Cells |
| PTC594210 | ROHO Contour Select - 15 x 18.5in - (8 x 10cell) | 4.25 in | Unlimited | Very High Risk | Air Cells |
| PTC594600 | ROHO Contour Select - 16.75 x 15in - (9 x 8cell) | 4.25 in | Unlimited | Very High Risk | Air Cells |
| PTC594700 | ROHO Contour Select - 16.75 x 16.75in - (9 x 9cell) | 4.25 in | Unlimited | Very High Risk | Air Cells |
| PTC594300 | ROHO Contour Select - 16.75 x 18.5in - (9 x 10cell) | 4.25 in | Unlimited | Very High Risk | Air Cells |
| PTC594400 | ROHO Contour Select - 16.75 x 20in - (9 x 11cell) | 4.25 in | Unlimited | Very High Risk | Air Cells |
| PTC593800 | ROHO Contour Select - 18.5 x 16.75in - (10 x 9cell) | 4.25 in | Unlimited | Very High Risk | Air Cells |
| PTC593500 | ROHO Contour Select - 18.5 x 18.5in - (10 x 10cell) | 4.25 in | Unlimited | Very High Risk | Air Cells |
| PTC593700 | ROHO Contour Select - 18.5 x 20in - (10 x 11cell) | 4.25 in | Unlimited | Very High Risk | Air Cells |
| PTC593890 | ROHO Contour Select - 20.25 x 16.75in - (11 x 9cell) | 4.25 in | Unlimited | Very High Risk | Air Cells |
| PTC593900 | ROHO Contour Select - 20 x 18.5in - (11 x 10cell) | 4.25 in | Unlimited | Very High Risk | Air Cells |
| PTC594000 | ROHO Contour Select - 20 x 20in - (11 x 11cell) | 4.25 in | Unlimited | Very High Risk | Air Cells |