Product Comparison
{{variant.Name}}
{{variant.Code}}
{{variant.SalePrice}}
{{variant.ListPrice}}
{{variant.UOM}}
{{comparisonProductsError}}
You can add up to four products to the compare list. To view full detail, please click COMPARE.
ROHO - Dual Compartment
Previous
Next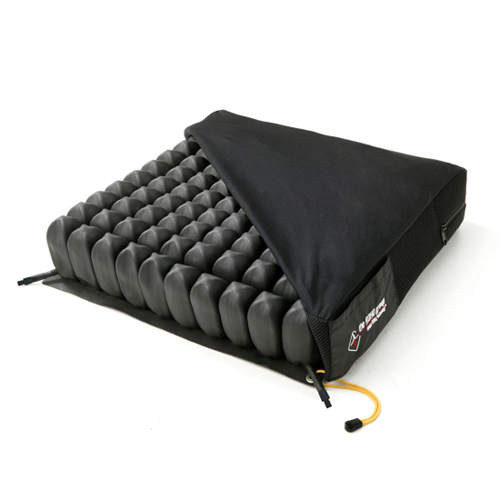 Two separate compartments of the cushion allow positioning adjustments to address a pelvic obliquity (side-to-side) or sacral sitting (front to back)
The Dual Compartment offers slightly less postural control and flexibility than the Quadtro Select range but retains the pressure and shear risk management standard for ROHO
Appropriate for clients with high risk of ischemic ulcers
Maximum User Weight: Unlimited
High Profile (HP): 4"(10cm) High Cells, Higher pressure disbursement
Low Profile (LP): 2"(5cm) High Cells, Greater stability
All models include: 2 way stretch cover, Hand pump & Repair kit, Operating Instructions
Contract, Trade and Volume Prices may be available. To find out if they are available for this product, please contact us here.
Specifications

| Code | Display Name | Total Height | Safe Working Load | Pressure Care Rating | Material |
| --- | --- | --- | --- | --- | --- |
| PTC547521 | ROHO Dual Compartment - Low Profile - 11.5 x 11.5in - (6 x 6cell) | 2 in | Unlimited | Very High Risk | Air Cells |
| PTC547526 | ROHO Dual Compartment - Low Profile - 11.5 x 13.25in - (6 x 7cell) | 2 in | Unlimited | Very High Risk | Air Cells |
| PTC547536 | ROHO Dual Compartment - Low Profile - 13.25 x 13.25in - (7 x 7cell) | 2 in | Unlimited | Very High Risk | Air Cells |
| PTC547541 | ROHO Dual Compartment - Low Profile - 13.25 x 15in - (7 x 8cell) | 2 in | Unlimited | Very High Risk | Air Cells |
| PTC547551 | ROHO Dual Compartment - Low Profile - 15 x 13.25in - (8 x 7cell) | 2 in | Unlimited | Very High Risk | Air Cells |
| PTC547700 | ROHO Dual Compartment - Low Profile - 15 x 15in - (8 x 8cell) | 2 in | Unlimited | Very High Risk | Air Cells |
| PTC547900 | ROHO Dual Compartment - Low Profile - 15 x 16.75in - (8 x 9cell) | 2 in | Unlimited | Very High Risk | Air Cells |
| PTC548300 | ROHO Dual Compartment - Low Profile - 16.75 x 15in - (9 x 8cell) | 2 in | Unlimited | Very High Risk | Air Cells |
| PTC548500 | ROHO Dual Compartment - Low Profile - 16.75 x 16.75in - (9 x 9cell) | 2 in | Unlimited | Very High Risk | Air Cells |
| PTC548100 | ROHO Dual Compartment - Low Profile - 16.75 x 18.5in - (9 x 10cell) | 2 in | Unlimited | Very High Risk | Air Cells |
| PTC547505 | ROHO Dual Compartment - Low Profile - 18.5 x 16.75in - (10 x 9cell) | 2 in | Unlimited | Very High Risk | Air Cells |
| PTC547400 | ROHO Dual Compartment - Low Profile - 18.5 x 18.5in - (10 x 10cell) | 2 in | Unlimited | Very High Risk | Air Cells |
| PTC547295 | ROHO Dual Compartment - Low Profile - 18.5 x 20.25in - (10 x 11cell) | 2 in | Unlimited | Very High Risk | Air Cells |
| PTC547285 | ROHO Dual Compartment - Low Profile - 20.25 x 18.5in - (11 x 10cell) | 2 in | Unlimited | Very High Risk | Air Cells |
| PTC547275 | ROHO Dual Compartment - Low Profile - 20.25 x 20.25in - (11 x 11cell) | 2 in | Unlimited | Very High Risk | Air Cells |
| PTC547533 | ROHO Dual Compartmen - High Profile - 9.25 x 7.5in - (7 x 4cell) | 4 in | Unlimited | Very High Risk | Air Cells |
| PTC547520 | ROHO Dual Compartmen - High Profile - 11.5 x 11.5in - (6 x 6cell) | 4 in | Unlimited | Very High Risk | Air Cells |
| PTC547525 | ROHO Dual Compartmen - High Profile - 11.5 x 13.25in - (6 x 7cell) | 4 in | Unlimited | Very High Risk | Air Cells |
| PTC547530 | ROHO Dual Compartmen - High Profile - 11.5 x 15in - (6 x 8cell) | 4 in | Unlimited | Very High Risk | Air Cells |
| PTC547535 | ROHO Dual Compartmen - High Profile - 13.25 x 13.25in - (7 x 7cell) | 4 in | Unlimited | Very High Risk | Air Cells |
| PTC547540 | ROHO Dual Compartmen - High Profile - 13.25 x 15in - (7 x 8cell) | 4 in | Unlimited | Very High Risk | Air Cells |
| PTC547545 | ROHO Dual Compartmen - High Profile - 15 x 9.25in - (8 x 5cell) | 4 in | Unlimited | Very High Risk | Air Cells |
| PTC547546 | ROHO Dual Compartmen - High Profile - 15 x 11.5in - (8 x 6cell) | 4 in | Unlimited | Very High Risk | Air Cells |
| PTC547550 | ROHO Dual Compartmen - High Profile - 15 x 13.25in - (8 x 7cell) | 4 in | Unlimited | Very High Risk | Air Cells |
| PTC547600 | ROHO Dual Compartmen - High Profile - 15 x 15in - (8 x 8cell) | 4 in | Unlimited | Very High Risk | Air Cells |
| PTC547800 | ROHO Dual Compartmen - High Profile - 15 x 16.75in - (8 x 9cell) | 4 in | Unlimited | Very High Risk | Air Cells |
| PTC548200 | ROHO Dual Compartmen - High Profile - 16.75 x 15in - (9 x 8cell) | 4 in | Unlimited | Very High Risk | Air Cells |
| PTC548400 | ROHO Dual Compartmen - High Profile - 16.75 x 16.75in - (9 x 9cell) | 4 in | Unlimited | Very High Risk | Air Cells |
| PTC548000 | ROHO Dual Compartmen - High Profile - 16.75 x 18.5in - (9 x 10cell) | 4 in | Unlimited | Very High Risk | Air Cells |
| PTC547511 | ROHO Dual Compartmen - High Profile - 18.5 x 9.25in - (10 x 5cell) | 4 in | Unlimited | Very High Risk | Air Cells |
| PTC547510 | ROHO Dual Compartmen - High Profile - 18.5 x 13.25in - (10 x 7cell) | 4 in | Unlimited | Very High Risk | Air Cells |
| PTC547500 | ROHO Dual Compartmen - High Profile - 18.5 x 16.75in - (10 x 9cell) | 4 in | Unlimited | Very High Risk | Air Cells |
| PTC547300 | ROHO Dual Compartmen - High Profile - 18.5 x 18.5in - (10 x 10cell) | 4 in | Unlimited | Very High Risk | Air Cells |
| PTC547290 | ROHO Dual Compartmen - High Profile - 18.5 x 20.25in - (10 x 11cell) | 4 in | Unlimited | Very High Risk | Air Cells |
| PTC547280 | ROHO Dual Compartmen - High Profile - 20.25 x 18.5in - (11 x 10cell) | 4 in | Unlimited | Very High Risk | Air Cells |
| PTC547270 | ROHO Dual Compartmen - High Profile - 20.25 x 20.25in - (11 x 11cell) | 4 in | Unlimited | Very High Risk | Air Cells |