Product Comparison
{{variant.Name}}
{{variant.Code}}
{{variant.SalePrice}}
{{variant.ListPrice}}
{{variant.UOM}}
{{comparisonProductsError}}
You can add up to four products to the compare list. To view full detail, please click COMPARE.
ROHO - Quadtro Select
Previous
Next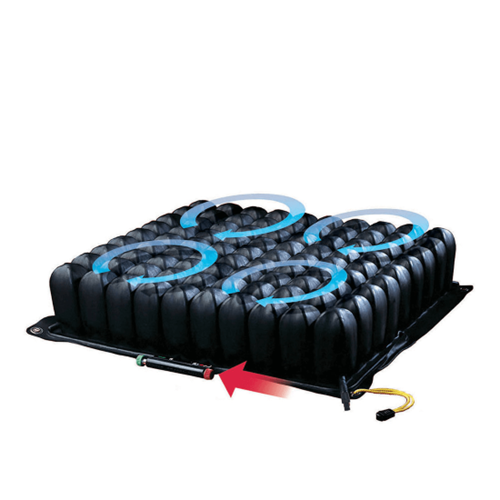 ROHO Dry Floatation promotes circulation, and pressure relief whilst flexible neoprene cells reduce shear friction
Quadtro Select cushions employ ISOFLO Memory Control which locks air into compartments to help maintain better postural integrity in addition to pressure reduction
Quick-and-easy air component adjustment maximizes function and utility
Maximum User Weight: Unlimited
High Profile (HP): 4"(10cm) High Cells, Higher pressure disbursement
Mid Profile (MP): 3.25"(8.5cm) High Cells. Combination of stability and pressure dispursement
Low Profile (LP): 2"(5cm) High Cells, Greater stability
All models include: 2 way stretch cover, Hand pump & Repair kit, Operating Instructions
Contract, Trade and Volume Prices may be available. To find out if they are available for this product, please contact us here.
Specifications

| Code | Display Name | Total Height | Safe Working Load | Pressure Care Rating | Material |
| --- | --- | --- | --- | --- | --- |
| PTC590200 | ROHO Quadtro Select - High Profile - 12 x 12in - (6 x 6cell) | 4 in | Unlimited | Very High Risk | Air Cells |
| PTC590400 | ROHO Quadtro Select - High Profile - 12 x 13in - (6 x 7cell) | 4 in | Unlimited | Very High Risk | Air Cells |
| PTC590700 | ROHO Quadtro Select - High Profile - 13 x 13in - (7 x 7cell) | 4 in | Unlimited | Very High Risk | Air Cells |
| PTC591000 | ROHO Quadtro Select - High Profile - 13 x 15in - (7 x 8cell) | 4 in | Unlimited | Very High Risk | Air Cells |
| PTC591600 | ROHO Quadtro Select - High Profile - 15 x 13in - (8 x 7cell) | 4 in | Unlimited | Very High Risk | Air Cells |
| PTC591800 | ROHO Quadtro Select - High Profile - 15 x 15in - (8 x 8cell) | 4 in | Unlimited | Very High Risk | Air Cells |
| PTC592000 | ROHO Quadtro Select - High Profile - 15 x 16.75in - (8 x 9cell) | 4 in | Unlimited | Very High Risk | Air Cells |
| PTC591200 | ROHO Quadtro Select - High Profile - 15 x 17.75in - (7 x 9cell) | 4 in | Unlimited | Very High Risk | Air Cells |
| PTC591300 | ROHO Quadtro Select - High Profile - 15 x 18.5in - (8 x 10cell) | 4 in | Unlimited | Very High Risk | Air Cells |
| PTC591500 | ROHO Quadtro Select - High Profile - 15 x 20in - (8 x 11cell) | 4 in | Unlimited | Very High Risk | Air Cells |
| PTC592800 | ROHO Quadtro Select - High Profile - 16.75 x 15in - (9 x 8cell) | 4 in | Unlimited | Very High Risk | Air Cells |
| PTC593000 | ROHO Quadtro Select - High Profile - 16.75 x 16.75in - (9 x 9cell) | 4 in | Unlimited | Very High Risk | Air Cells |
| PTC592200 | ROHO Quadtro Select - High Profile - 16.75 x 18.5in - (9 x 10cell) | 4 in | Unlimited | Very High Risk | Air Cells |
| PTC592400 | ROHO Quadtro Select - High Profile - 16.75 x 20in - (9 x 11cell) | 4 in | Unlimited | Very High Risk | Air Cells |
| PTC592700 | ROHO Quadtro Select - High Profile - 17 x 15in - (9 x 7cell) | 4 in | Unlimited | Very High Risk | Air Cells |
| PTC588200 | ROHO Quadtro Select - High Profile - 18.25 x 22in - (10 x 12cell) | 4 in | Unlimited | Very High Risk | Air Cells |
| PTC588300 | ROHO Quadtro Select - High Profile - 18.5 x 15in - (10 x 8cell) | 4 in | Unlimited | Very High Risk | Air Cells |
| PTC588500 | ROHO Quadtro Select - High Profile - 18.5 x 16.75in - (10 x 9cell) | 4 in | Unlimited | Very High Risk | Air Cells |
| PTC587700 | ROHO Quadtro Select - High Profile - 18.5 x 18.5in - (10 x 10cell) | 4 in | Unlimited | Very High Risk | Air Cells |
| PTC588000 | ROHO Quadtro Select - High Profile - 18.5 x 20in - (10 x 11cell) | 4 in | Unlimited | Very High Risk | Air Cells |
| PTC589300 | ROHO Quadtro Select - High Profile - 20 x 15in - (11 x 8cell) | 4 in | Unlimited | Very High Risk | Air Cells |
| PTC589400 | ROHO Quadtro Select - High Profile - 20 x 16.75in - (11 x 9cell) | 4 in | Unlimited | Very High Risk | Air Cells |
| PTC588800 | ROHO Quadtro Select - High Profile - 20 x 18.5in - (11 x 10cell) | 4 in | Unlimited | Very High Risk | Air Cells |
| PTC589000 | ROHO Quadtro Select - High Profile - 20 x 20in - (11 x 11cell) | 4 in | Unlimited | Very High Risk | Air Cells |
| PTC589200 | ROHO Quadtro Select - High Profile - 20 x 22in - (11 x 12cell) | 4 in | Unlimited | Very High Risk | Air Cells |
| PTC589550 | ROHO Quadtro Select - High Profile - 22 x 16.5in - (12 x 9cell) | 4 in | Unlimited | Very High Risk | Air Cells |
| PTC589600 | ROHO Quadtro Select - High Profile - 22 x 18.5in - (12 x 10cell) | 4 in | Unlimited | Very High Risk | Air Cells |
| PTC589800 | ROHO Quadtro Select - High Profile - 22 x 20in - (12 x 11cell) | 4 in | Unlimited | Very High Risk | Air Cells |
| PTC589900 | ROHO Quadtro Select - High Profile - 22 x 22in - (12 x 12cell) | 4 in | Unlimited | Very High Risk | Air Cells |
| PTC590000 | ROHO Quadtro Select - High Profile - 24 x 18.5in - (13 x 10cell) | 4 in | Unlimited | Very High Risk | Air Cells |
| PTC590100 | ROHO Quadtro Select - High Profile - 24 x 20in - (13 x 11cell) | 4 in | Unlimited | Very High Risk | Air Cells |
| PTC590110 | ROHO Quadtro Select - High Profile - 24 x 22in - (13 x 12cell) | 4 in | Unlimited | Very High Risk | Air Cells |
| PTC590600 | ROHO Quadtro Select - Low Profile - 11 x 15in - (6 x 8cell) | 2 in | Unlimited | Very High Risk | Air Cells |
| PTC590300 | ROHO Quadtro Select - Low Profile - 11 x 11in - (6 x 6cell) | 2 in | Unlimited | Very High Risk | Air Cells |
| PTC590500 | ROHO Quadtro Select - Low Profile - 11 x 13in - (6 x 7cell) | 2 in | Unlimited | Very High Risk | Air Cells |
| PTC590800 | ROHO Quadtro Select - Low Profile - 13 x 13in - (7 x 7cell) | 2 in | Unlimited | Very High Risk | Air Cells |
| PTC591100 | ROHO Quadtro Select - Low Profile - 13 x 15in - (7 x 8cell) | 2 in | Unlimited | Very High Risk | Air Cells |
| PTC591700 | ROHO Quadtro Select - Low Profile - 15 x 13in - (8 x 7cell) | 2 in | Unlimited | Very High Risk | Air Cells |
| PTC591900 | ROHO Quadtro Select - Low Profile - 15 x 15in - (8 x 8cell) | 2 in | Unlimited | Very High Risk | Air Cells |
| PTC592100 | ROHO Quadtro Select - Low Profile - 15 x 16.75in - (8 x 9cell) | 2 in | Unlimited | Very High Risk | Air Cells |
| PTC591400 | ROHO Quadtro Select - Low Profile - 15 x 18.5in - (8 x 10cell) | 2 in | Unlimited | Very High Risk | Air Cells |
| PTC592710 | ROHO Quadtro Select - Low Profile - 17 x 15in - (9 x 7cell) | 2 in | Unlimited | Very High Risk | Air Cells |
| PTC592900 | ROHO Quadtro Select - Low Profile - 16.75 x 15in - (9 x 8cell) | 2 in | Unlimited | Very High Risk | Air Cells |
| PTC593200 | ROHO Quadtro Select - Low Profile - 16.75 x 16.75in - (9 x 9cell) | 2 in | Unlimited | Very High Risk | Air Cells |
| PTC592300 | ROHO Quadtro Select - Low Profile - 16.75 x 18.5in - (9 x 10cell) | 2 in | Unlimited | Very High Risk | Air Cells |
| PTC592500 | ROHO Quadtro Select - Low Profile - 16.75 x 20in - (9 x 11cell) | 2 in | Unlimited | Very High Risk | Air Cells |
| PTC588280 | ROHO Quadtro Select - Low Profile - 18.5 x 13in - (10 x 7cell) | 2 in | Unlimited | Very High Risk | Air Cells |
| PTC588400 | ROHO Quadtro Select - Low Profile - 18.5 x 15in - (10 x 8cell) | 2 in | Unlimited | Very High Risk | Air Cells |
| PTC588700 | ROHO Quadtro Select - Low Profile - 18.5 x 16.75in - (10 x 9cell) | 2 in | Unlimited | Very High Risk | Air Cells |
| PTC587900 | ROHO Quadtro Select - Low Profile - 18.5 x 18.5in - (10 x 10cell) | 2 in | Unlimited | Very High Risk | Air Cells |
| PTC588100 | ROHO Quadtro Select - Low Profile - 18.5 x 20in - (10 x 11cell) | 2 in | Unlimited | Very High Risk | Air Cells |
| PTC588210 | ROHO Quadtro Select - Low Profile - 18.25 x 22in - (10 x 12cell) | 2 in | Unlimited | Very High Risk | Air Cells |
| PTC589500 | ROHO Quadtro Select - Low Profile - 20 x 16.75in - (11 x 9cell) | 2 in | Unlimited | Very High Risk | Air Cells |
| PTC588900 | ROHO Quadtro Select - Low Profile - 20 x 18.5in - (11 x 10cell) | 2 in | Unlimited | Very High Risk | Air Cells |
| PTC589100 | ROHO Quadtro Select - Low Profile - 20 x 20in - (11 x 11cell) | 2 in | Unlimited | Very High Risk | Air Cells |
| PTC589210 | ROHO Quadtro Select - Low Profile - 20 x 22in - (11 x 12cell) | 2 in | Unlimited | Very High Risk | Air Cells |
| PTC589700 | ROHO Quadtro Select - Low Profile - 22 x 18.5in - (12 x 10cell) | 2 in | Unlimited | Very High Risk | Air Cells |
| PTC593220 | ROHO Quadtro Select - Mid Profile - 16.75 x 18.5in - (9x10cell) | 3 in | Unlimited | Very High Risk | Air Cells |
| PTC593250 | ROHO Quadtro Select - Mid Profile - 18 x 18in - (9x10cell) | 3 in | Unlimited | Very High Risk | Air Cells |